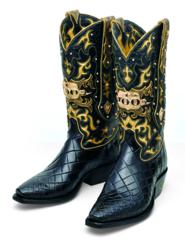 Glen Burnie, MD (PRWEB) May 10, 2011
Remember the $1,000,000 bra? While not quite a million dollars, Tony Lama Boots® is celebrating their 100th anniversary with a pair of $50,000 cowboy boots. With 4.4 ounces of 14K gold, and 100 diamonds commemorating 100 years of boot making, these boots were made for gawking. They will be making their only scheduled East Coast appearance at Carol's Western Wear in Laurel and Glen Burnie, Maryland, May 13th through the 23rd.
"We've hired a security guard, and rented a safe for their time in Maryland to keep them secure," said Mr. Chance, owner of Carol's Western Wear. "Any time they are out of the safe, the security guard must be there, too. We don't want these boots to suffer the same fate as their predecessors." Mr. Chance is referring to the first two versions. The current boots are known as the "El Rey (the king) IV", and while the $32,000 El Rey IIIs are safe and secure at Tony Lama's headquarters, the El Rey I and II were each stolen and remain missing. The original El Rey's were made for Tony Lama's 50th anniversary and valued in 1961 at a mere $5,000. They were stolen while on display in Florida. The El Rey IIs, valued at $10,000, met a similar fate in 1970.
About Carol's Western Wear
Carol's Western Wear, specializing in western boots and hats for 49 years, is a family owned business with 2 locations – Glen Burnie and Laurel, Maryland. Carol's Western Wear is proud and honored to be the only western retailer east of the Mississippi River showing the El Rey IV boots. Come see these $50,000 boots for yourself at our Laurel location May 13th, 14th, and 15th, and our Glen Burnie location May 20th, 21st, and 22nd. Visit CarolsWesternWear.com for details. Private viewings are available by appointment.
About Tony Lama Boots®
Tony Lama Boots® is a division of Justin Brands, Inc., a Berkshire-Hathaway corporation and the world's largest manufacturer of western footwear. With a variety of boot collections including Americana – proudly handcrafted in the USA – San Saba, Exotic, Western, Stockman, Western Work and more, Tony Lama Boots® has been the world's most recognized western boot brand since 1911. Tony Lama Boots® footwear products are available for men, women and children at western specialty stores across the country and from online footwear retailers. For more information about Tony Lama Boots, visit http://www.TonyLama.com, http://www.facebook.com/tonylama and http://www.twitter.com/tony_lama.
Media Contact:
Bob Chance
Carol's Western Wear
1-888-227-6571
http://www.CarolsWesternWear.com
###