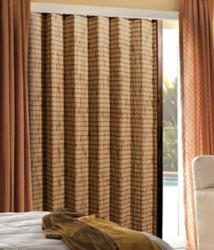 These can also make an affordable room divider.
Jacksonville, FL (PRWEB) May 08, 2011
Shades Shutters Blinds just introduced Woven Wood Panel Tracks by Vista Products.
"People are looking for something new, natural and unique for their home. Folding panels can fill that need. Especially for those large windows like sliding doors," says customer service. "It creates a stylistic and functional option when deciding on how to fill your house with sunlight."
The blinds come with a valance pattern running horizontally and blind patterns running vertically. The heights range from twelve inches all the way up to ninety-six inches high. With a width up to 144 inches wide it is easy to fit any area of your house. "These window treatments are designed for wide openings," says the owner. "It can used as a drapery or on a patio door with its standard fullness at fifteen percent. There is no need to have any concerns when it comes to small pets and your children."
The blinds are hand-made to insure no cords will pose any potential threats. The choices are between light and dark filtering materials. Liner attachment colors can come in white, beige, cream. The lightweight aluminum track will ensure the blinds are easily affixed and durable.
"Woven wood panel blinds are a wonderful addition to any room in any house. They are elegant, practical, and easy to install," proclaims Shades Shutters Blinds. "The new folding doors provide an added level of convenience. Whether or not the sun is shining, having these blinds in your house will be a real eye opener."
Folding doors can be found on Shades Shutters Blinds new website.Shades Shutters Blinds has been in business for 10 years.
# # #