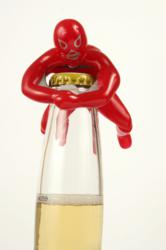 "The design challenge is a great opportunity to share with the global community the work of these young talented designers from Mexico City" - Ariel Rojo
New York, NY (PRWEB) May 08, 2011
The objective of the design challenge was to create products for a "real-life" sponsor and a Mexican cultural reference. The contest was open to all students attending the Centro de Investigaciones de Diseño Industrial, at the UNAM. The course and workshop was designed to engage aspects of design, engineering, manufacturing, marketing, sales and distribution that students will experience in their professional careers.
UNAM is the oldest university in North America, built in 1551. The industrial design department had a goal of attracting new design talent from Mexico. Kikkerland Design whose foundation as an international design collective was a natural fit for sponsoring the project. Always seeking fresh new ideas, the top student designers will be offered the chance to develop their projects with the company.
Mexican Designer Ariel Rojo collaborated with the students on their work. He used a simple design technique as the basis for the project: A + B = D (Element A = cultural element or story; Element B = a known object such as a chair, a ring, a cup, etc., the combined results in a whole new object, represented by the element "D").
The results are brilliant and creative. Kikkerland Design will select 5 designs based on design quality, originality, and production feasibility. There is a vote taking place for the top design at the International Contemporary Furniture Fair (ICFF) at the Kikkerland Design booth by ballot or at Kikkerland's Facebook page: http://www.facebook.com/home.php#!/Kikkerland. The top design will be announced Monday, May 16th on Kikkerland Design's Twitter page https://twitter.com/#!/kikkerlandnyc.
###