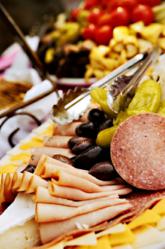 We believe that we owe it to the next generation to lead other businesses in an effort to use our resources wisely
Sunnyvale, CA (Vocus/PRWEB) May 07, 2011
Savory & Sweet Catering is now an approved member of Green Guide Directory. Today's brides are conscious of the environment and are becoming more interested in how they can have a wedding day that is as pleasing to the Earth as it is to her. Located in the San Francisco Bay Area, Savory & Sweet Catering can provide advice on an environmental-friendly wedding day, in addition to the all-around stellar job they provide for all their catered events.
"We believe that we owe it to the next generation to lead other businesses in an effort to use our resources wisely," said Leanne Pomellitto of Savory & Sweet Catering. "As a full-service catering company, we emphasize the use of china and silverware over disposable items, and use compostable items when paperware is necessary. Our facility practices efficient energy use. We have recycling containers and use biodegradable chemicals for all our kitchen and laundry cleaning."
Savory & Sweet Catering received a six leaf rating and have been a Green Certified business for over four years with the county of Santa Clara. They are recognized by a Congressional decree for their green business work ethic and have been honored with awards from the California Resources Board. Savory & Sweet Catering received the 2010 CA WRAP Award.
For more information about Savory& Sweet Catering, contact them by phone at 408-598-3197 or visit them at http://www.savoryandsweet.com.
About Savory & Sweet Catering
Enjoy delicious food and exceptional service from Savory & Sweet Catering. Savory & Sweet Catering, founded in 1993, provides outstanding catering services to the San Francisco Bay Area. They are a Certified Green Business and take great pride in delivering fantastic food and service while remaining environmentally sustainable. They work with their clients to develop a catering menu that feature locally grown organic ingredients wherever possible. Savory & Sweet Catering offers a wide range of catering options, including everything from summertime BBQ catering to formal wedding catering.
###