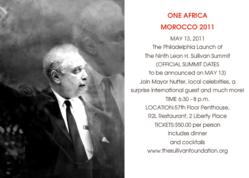 Philadelphia, PA (PRWEB) May 08, 2011
Leon H. Sullivan Foundation, a leader in empowering underprivileged people worldwide by promoting the principles of self-help and social responsibility announces the worldwide launch of the upcoming Leon H. Sullivan Summit IX, One Africa, to be held in Philadelphia Friday, May 13th, 2011.
In the city where the great civil rights leader, statesman, global humanitarian, and champion for the people of Africa Reverend Leon H. Sullivan – the "Lion of Zion" first envisioned and created the modern day "self-help" movement. The worldwide launch of the Leon H. Sullivan Summit IX, One Africa, Marrakech, Morocco is scheduled for Friday, May 13th from 6 p.m. to 8:30 p.m. in the 57th Floor Penthouse of Chef Daniel Stern's R2L Restaurant at Two Liberty Place, this celebration evening offers an opportunity to preview the extraordinary program, keynote speakers, and once-in-a-lifetime activities planned for the next historic Leon H. Sullivan Summit hosted by His Majesty King Mohammed VI.
A flagship program of the Leon H. Sullivan Foundation, The Leon H. Sullivan Summit, re-connects the nations and people of Africa with a displaced Diaspora spread out across the world and offers Friends of Africa the opportunity to be a part of a historic pilgrimage, which brings attention to socioeconomic development across the Continent. Tangible outcomes resulting for the 2008 historic Summit in Arusha, Tanzania include delivery of (in addition to high level economic dialogue and engagement) a water drilling rig and the production of an actual clean water well to serve more than 40,000 people in a selected village in Arusha, Tanzania; the acquisition and distribution of specially treated mosquito nets to create more than ten malaria free villages, the shipping of more than $100,000 worth of textbooks to the school system in Tanzania, adoption of a local school with a view to revitalizing the facility and make conducive for learning for more than 200 children. The Summits have been addressed most recently by President George W. Bush and President William J. Clinton.
The Leon H. Sullivan Summit is the first internationally recognized Summit of world leaders, convened on African soil, by a non-governmental private foundation. The Leon H. Sullivan Foundation is noted for its nonpartisan posture as well as its unwavering commitment to democratic ideals, both in the US and across the world. We are proud and honored to continue this great legacy and to retain that distinction almost 20 years after the first Summit convening in 1991.
MC for the evening is Philadelphia radio celebrity E. Steven Collins. Musical performances by recording artists Marsha Ambrosius, Melanie Fiona, and Common and guest remarks from Mayor Michael Nutter, Former Governor Edward Rendell, civil rights icon Ambassador Andrew J. Young, and Hope Sullivan Masters, daughter of the late Reverend Leon H. Sullivan. The evening includes a reception and complimentary cocktails (from 6 – 7 p.m.). A per person donation of $50 is required to attend the event. Call (202) 736-2239 to make your reservations today. Space is limited.
###