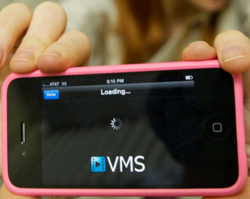 See What I'm Saying!
Santa Monica, CA (PRWEB) May 07, 2011
Ironroad USA along with Ironroad AB, launched it's cutting edge smart phone application "VMS" today to the world via the cloud. VMS, downloaded as a free app from the App Store or Android Market, is a simple and inexpensive way to share video experiences and communicate through a mobile phone. VMS allows consumers to rapidly share video through a simple app that works in the same way as an SMS.
The platform powering the VMS application, allows users of VMS app, the ability to customize their privacy settings, enabling various methods of video message exchange. These include, videos messages from one to another user, video broadcasts from one to many users and all either free or as a premium paid subscription. Ironroad's advanced broadcast video platform is targeted at content creators, now able to monetize video blogs from subscriber one and businesses who want to integrate video and instant communications into their marketing mix cost effectively.
Gerard Casale, Jr., CEO of Ironroad USA Inc. says: "We believe that the future of social media and broadcasting is largely through the smartphone which is rapidly proliferating, and as capacity and bandwidth increases rapidly with 4G and LTE here in the US we believe that VMS is the tool of choice for users to easily manage their own personal mobile broadcasting network."
###