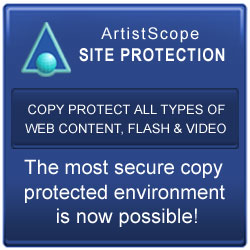 They know the technology, they know the customer, and they know the audience. Their solutions are the most secure and are affordable; and they stay apace with those who seek ways to exploit web security.
Brisbane, QLD (PRWEB) May 17, 2011
ArtistScope have launched a new site protection system to provide the most secure environment for viewing copyrighted, corporate and otherwise intellectual property. The ArtistScope Site Protection System (ASPS) creates a "for your eyes only" environment that cannot be exploited in any way.
ASPS is the most significant innovation for web site protection for more than a decade; since ArtistScope introduced "CopySafe" which finally closed the door on all copying including the prevention of screen capture.
Up till now maintaining the integrity of copy protection has been an ongoing battle due to continual change, not only in Windows support, but also with Internet browsers as their makers exposed web media in a bid to win popularity. To resolve inconsistent support and the holes in every one's security policy, ASPS introduces the ArtistScope Web Reader, a new web browser specially designed and dedicated to the copy protection of web site content, that is recommended for use where the prevention of copy and redistribution is mission critical.
ArtistScope Web Reader is not intended to replace existing web browsers, but rather to complement them by providing users and webmasters a secure decoder when needed. Web sites using ASPS can tag specific web pages for protection, and those pages will only be viewable in ArtistScope Web Reader. Protected web pages can no longer be accessed by other web browsers. Nor can they be spidered by search and site grabbers, stopping data leakage and site scraping at the front door. Regular browsers attempting to access those pages will automatically launch the Web Reader if already installed, or redirect for install information and download. Likewise Web Reader will automatically launch unprotected content in the visitor's default web browser.
The lack of IP protection in standard web browsers has meant that content publishers have had to at best limit the quality of the media accessible to the public, or only show small portions. Sites that sell photo stock haven't been able to show hi-resolution images, and so purchase decisions have been based on viewing poor quality samples. But now with ASPS the public can evaluate those images in their glory prior to making a purchase decision, and books can be viewed online in their entirety, but only saved locally after being purchased. ASPS will make the Internet a richer, more vibrant experience for everyone.
With ASPS site owners can copy protect all web page content and embedded media including images, Flash, PDF, videos, source code and database records without data leakage and other exploits enabled by other web browsers. Functions and plugins can no longer be disabled or manipulated to exploit a site's security policy and no media can be retrieved from the browser cache.
ASPS is fully compatible with all web applications and it requires no special treatment of web page or media to employ. For example, site owners wishing to protect Flash no longer have to encrypt, obfuscate and domain lock their Flash SWF. Anyone wishing to protect videos from their web pages no longer needs the added protection of a media server to "stream" a video just to protect the source file location.
The ArtistScope Site Protection System (ASPS) succeeds where all other web protection solutions have failed... to properly protect the livelihood of merchants and artists on the Internet.
ABOUT ARTISTSCOPE
ArtistScope is an artist-oriented company incorporated in Australia in 1997 to address the need for robust copy protection for the livelihood of artists. They know the technology, they know the customer, and they know the audience.
Click for more information about ArtistScope Copy Protection & DRM
###