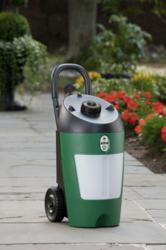 "The ALLCLEAR Mosquito Mister technology affords users immediate insect relief when and where they need it most," says Bill Donahue, Ph.D., CEO/Laboratory Director, Sierra Research Laboratories
(PRWEB) May 16, 2011
Stop biting insects from ruining outdoor fun this summer. Safely get rid of flying pests and enjoy the yard, deck, or any outdoor area with Universal Pest Solutions' eco-friendly ALLCLEAR® Cordless Mosquito Mister and 100% NATURALS™ insect control Concentrate. Together they are the fastest, all-natural way to kill and repel mosquitoes, gnats, no-see-ums, and other small biting insects from outdoor areas.
Patented Technology, All-Natural Control. The patented ALLCLEAR Mosquito Mister and 100% NATURALS are a safe, effective, and easy-to-use insect control system that provides immediate relief from biting insects. Just one 3-minute mist application of 100% NATURALS effectively kills and repels and mosquitoes, including the species that may transmit West Nile Virus. This specially formulated, all-natural concentrate contains patented Geraniol, a botanical extract of the lemongrass plant, long-known for its insect repelling power. The ALLCLEAR Mosquito Mister controls small biting insects in areas up to 2,000 square feet.
"The ALLCLEAR brand is synonymous with effective, responsible insect control solutions people can feel good about," says Laura Uggerholt, General Manager, Universal Pest Solutions, LP. "Our Misters provide the ultimate in backyard enjoyment and our 100% NATURALS formula is perfect for anyone desiring a green insect control solution."
Fast Protection Anywhere, Anytime. The ALLCLEAR Mosquito Mister is cordless and powered by a rechargeable battery so it can easily protect any outdoor area – yards, decks, patios, play spaces, pool areas, and more. ALLCLEAR users also control when and how often to mist according to their individual needs. For hours of outdoor protection, simply position the Mister and activate from the unit or with the remote starter. The Mister atomizes an all-natural, eco-friendly mist for 3-minutes into an area of up to 2,000 square feet, effectively killing and repelling biting insects for hours. The ALLCLEAR Mosquito Mister can also be taken to parties, picnics, or other outdoor events.
ALLCLEAR Family of Products
The ALLCLEAR Mosquito Mister product line also includes the ALLCLEAR Mosquito Mister PRO which protects areas up to 4,000 sq. ft. and is ideal for larger yards and pool, and play areas. Additional ALLCLEAR Concentrate options are Botanical Pyrethrum Concentrate made from dried chrysanthemum flowers and Synergized PLUS Concentrate that contains permethrin, the synthetic equivalent to botanical pyrethrum. These formulas offer from 4-6 hours protection with each 3-minute application. Both are EPA-registered for use with the ALLCLEAR Mosquito Misters.
Proven Results
In tests conducted by independent entomologists in backyards throughout the U.S., the ALLCLEAR Mosquito Mister and ALLCLEAR Concentrates reduced biting mosquitoes by more than 90% in areas up to 4,000 square feet for as long as six hours.*
"The backyard studies conclude that the ALLCLEAR Mister is very effective at controlling mosquitoes in designated areas for long periods of time," asserts Bill Donahue, Ph.D., CEO/Laboratory Director, Sierra Research Laboratories. "Unlike backyard mosquito control products that can take weeks to see results or other options that may operate when not really needed, the ALLCLEAR Cordless Mosquito Mister technology affords users immediate insect relief when and where they need it most."
Availability and Price
The ALLCLEAR Cordless Mosquito Misters and ALLCLEAR Mosquito Mister Concentrates are available nationwide at Ace Hardware, True Value, independent hardware stores, and online at http://www.frontgate.com, http://www.homedepot.com, and http://www.target.com. The ALLCLEAR Mosquito Mister has an MSRP of $299; PRO model has an MSRP of $499. The ALLCLEAR Concentrates provide up to 20 mist applications per bottle and have an MSRP of $29.99 per bottle. For more information visit http://www.allclearmister.com.

Based on tests conducted by independent entomologists for Universal Pest Solutions using ALLCLEAR Mosquito Mister PRO and ALLCLEAR Mosquito Mister Botanical and/or Synergized PLUS Concentrate.
About Universal Pest Solutions, LP
Universal Pest Solutions, LP is headquartered in Dallas, Texas with field offices in Boston, Mass. Founded in 2007, the company is dedicated to ridding outdoor residential areas of mosquitoes and other nuisance insects. The Company identifies and develops distinct products to enhance its customer's quality of life and peace of mind by equipping them with tools and products to effectively control and eliminate mosquitoes and other nuisance insects.
# # #