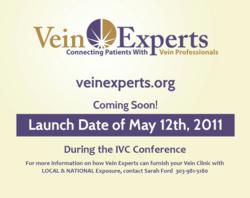 Join us at VeinExperts.org to unite patients and vein professionals in the education and treatment of venous disease.

Ronald Bush, M.D., FACS
Dayton, OH (PRWEB) May 13, 2011
Vein Experts.org strives to be the #1 information resource for those suffering from venous disease. Patients are provided the resources and tools needed to make informative decisions regarding treatment of their Venous disease. By utilizing the Knowledge Base, Ask Dr. Bush section and FAQ's page, patients learn about their individual symptoms and available treatments, which enables them to make an informative decision when they are ready to locate a Venous Specialist.
Physicians are able to participate in the site which provides educational tools, the latest technologies and current news in the field of Venous Disease. VeinExperts.org was founded with the intentions of bringing the field of Venous Disease together in an online community where methods of treatments are shared and discussed. Members are privileged to view and actively participate in all of the following member benefits:
*Listed in a Venous Specialist Directory
*Access to Industry Calendar
*Access to Discussion of Latest Technology,
*Access to Discussion of Medical Equipment
*Access to Discussion of Techniques
*Access to Abstracts of Medical Journals
*Access to Post Career Opportunities
*Featured Member information page
*Members are encouraged to Participate in the Bush Venous Lectures online courses and also participate in the largest international medical blog dedicated to venous disease and treatment
The VeinExperts.org website is due to launch on May 12, 2011, at IVC in South Beach, Florida, with 1500 physicians listed.
###