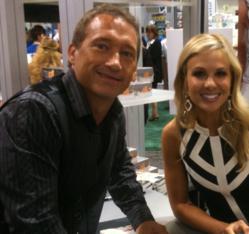 It doesn't get any better than this!
- Elisabeth Hasselbeck
(PRWEB) May 07, 2011
J. Michael Zenn recently met with and signed a copy of his new book, The Self Health Revolution, for the co-host of The View, Elisabeth Hasselbeck, at the annual Natural Products Expo West in Los Angeles.
Zenn and Hasselbeck were able to discuss their shared passion for educating children about very important health issues, as they have both written books on the subject. Hasselbeck said she was very excited to read the book and in regards to John Mackey (CEO of Whole Foods Markets) endorsing the book, said, "it doesn't get any better than this!" Zenn also received a signed copy of Hasselbeck's best selling book, The G Free Diet, and sampled a taste of her latest healthy creation the NoGii Bar.
Zenn is the author of the common-sense, controversial little book, The Self Health Revolution, which some claim produces a jaw-dropping, heart-stopping, laugh-out-loud read. Zenn, attempts to persuades the reader they must seize control of their health now (Self Health) by taking a few, utterly-simple, 15-minute steps to loose weight, escape pain, ward off disease and recapture the energy lost in their youth.
Zenn points to a disturbing recent CDC study that shows that over 105 million people in the U.S. (one third) are already diabetic or prediabetic and probably obese, a stunning 37% increase in the last 5 years. Zenn says we are ushering in a whole new health era of what he calls "Diabesity". He says, by 2025 half of everyone we know will be obese and or diabetic and will probably be working in a diabesity health related support field.
John Mackey, the Chief Executive Officer & Co-founder of Whole Foods Market, exuberantly endorsed the book saying:
"J. Michael Zenn has written a wonderful book… What we need to do is to wholeheartedly embrace the principles of healthy eating and healthy living outlined in 'The Self Health Revolution'. I enthusiastically recommend this book!"
Whole Foods Market is a $9 billion, Fortune 500 Company and a "Fortune 100 Best Companies to Work For" winner every year since the contest's inception in 1998. With over 300 stores and roughly 60,000 employees, Whole Foods Market is one of the top 10 supermarket companies in America and the largest and most recognized natural and organic foods retailer in the world.
J. Michael Zenn's ground-breaking book can currently be found at SelfHealthRevolution.com, Amazon.com, and exclusively at Whole Food Markets. Zenn was most recently featured on CBS News with Sandra Mitchell (Emmy award winning journalist and news anchor) and nearly 1 million television viewers have already witnessed his controversial, yet intriguing story. Zenn said, "the book sold out within hours after the interview."
J. Michael Zenn CBS News Interview click here: http://youtu.be/J8hGI2uQ9E0
# # #