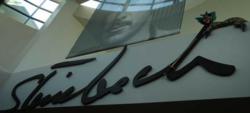 Salinas, California (PRWEB) May 09, 2011
The National Steinbeck Center, located at One Main Street in Salinas, unveils its 2011 Steinbeck Festival: Friends and Foes, to be held from August 4-7, 2011, in Salinas, on Monterey's Cannery Row and in Cities of Letters around the world.
This year, the Steinbeck Festival looks at friends, foes and accomplices of all stripes, in books, in arts and ideas, and in Steinbeck's life and work. Speakers will explore the creative fallout when ideas collide, the pleasure of partnership, the creative clash. Events will celebrate friends in letters and dish up the dirt on some literary feuds, serve unlikely pairings and pit X against Y. The festival will reach out and reach across, from Steinbeck to other writers and artists, celebrate our adversaries and allies, and the creative spark between them.
This four-day festival of books, talks, food, tours, and films, as well as visual and performing arts, will be based in Salinas, with International Fringe Fest events taking place in cities of letters throughout the world, this year including Paris, Cairo, Aracataca, Johannesburg, and other locales.
"The 2011 Steinbeck Festival expands into a wider celebration of arts and ideas, viewed through the lens of Steinbeck's work and themes. The Festival continues to expand throughout the world through the Steinbeck Festival International Fringe Fest." -- Colleen Finnegan Bailey, Executive Director of the National Steinbeck Center
FESTIVAL HIGHLIGHTS INCLUDE:
•THURSDAY, AUGUST 4, from 5:30-8 and 8–9:30 pm
A Literary Brawl and Pub Crawl on Cannery Row. Open the festival with one Tom Wallagher of a Sweet Thursday. Travel along the Row and raise a glass to the joyous brawls that earned Cannery Row its stripes as festival speakers duke it out with brief dueling passages from Steinbeck's Cannery Row and Sweet Thursday. The final stop will be at Wave Street Studios at 8 pm for a celebration with wine, beer, and an Open Mic. Bring your favorite passage from Steinbeck's Monterey books to read and enjoy 1930s music.
Wave Street Studios is at 774 Wave Street, just a block off Cannery Row in Monterey. Pub Crawl map and coupons will be provided. $15 for 8:00 pm event at Wave Street Studios, with wine and beer included. Dinner and Individual Pub Crawl stops are buy-as-you-go.
•FRIDAY, AUGUST 5, from 6:00-8:00 pm
EXHIBITION OPENING: Original Drawings from Pierre Alain Bertola's Graphic Novel of Steinbeck's Of Mice and Men. Exhibition opening: Artist talk, followed by reception. In 2009, Swiss artist Pierre Alain Bertola's graphic novel, Des souris et des hommes (based on John Steinbeck's novel, Of Mice and Men) was published in French by renowned Paris-based graphic novel publisher, Editions Delcourt. Bertola is an internationally-known artist based in Geneva whose work has ranged from stage sets in Russia to graphic novels. Since the rabbit is a potent symbol of nurturance, hope, and home in Of Mice and Men, Bertola will create a giant drawing of a 14-foot rabbit to enchant all ages. This exhibition is funded by ProHelvetia, the Swiss Arts Council, with the support of the City of Nyon and the State of Vaud, Switzerland.
National Steinbeck Center Rotunda. One Main Street, Salinas. Free, as part of First Fridays Salinas.
•SATURDAY, AUGUST 6, from 2:45-3:30 pm
The Eye Against the Ear: Actor David Conrad on Why Read Steinbeck Aloud. TV and film actor David Conrad—perhaps best known for his role on The Ghost Whisperer—celebrates the beauty of Steinbeck's prose and reads selected passages out loud.
National Steinbeck Center, One Main Street, Salinas. $18/$10 Members.
•SUNDAY, AUGUST 7, from 12:00-1:00 pm
Jane Smiley on Our Animal Friends. Pulitzer-prize winning author Jane Smiley gives a sneak peek at her upcoming middle-grade novel, True Blue, about a Salinas Valley girl and her mysterious horse, and explores our deep connection with our animal friends.
National Steinbeck Center, One Main Street, Salinas. Free for residents of Monterey County, with ID, as part of Festival Free Sunday. For others, free with museum admission.
•SUNDAY, AUGUST 7, from 2:30–3:30 pm
Of Mice and Men, a play with formerly incarcerated actors and writers of the award-winning theatre group, Poetic Justice. The Poetic Justice Project is dedicated to the creation of original theatre that examines crime, punishment, and redemption. Through passionate collaboration of formerly incarcerated writers, artists, musicians, and actors, Poetic Justice produces ground-breaking theatre to challenge and transform our culture.
National Steinbeck Center, One Main Street, Salinas. Free for residents of Monterey County, with ID, as part of Festival Free Sunday. For others, free with museum admission.
Background on the Theme of the 31st Annual Steinbeck Festival:
This year's festival will highlight five of Steinbeck's novels. Of Mice and Men (1937) depicts one of American literature's most memorable, unlikely friendships. Steinbeck's "Monterey Trilogy"—Tortilla Flat (1935), Cannery Row (1945), and Sweet Thursday (1954)—features a motley band of brothers who realize the importance of human connection. The Moon Is Down (1942) offers a radical portrayal of the enemy as a human being—while challenging our beliefs about leadership and democracy.
Background on the National Steinbeck Center:
The National Steinbeck Center is located in Salinas, California, the birthplace of John Steinbeck. The National Steinbeck Center is a museum and cultural institution with a mission to engage people in the exploration of culture, issues and the arts relevant to our times. The Center offers three visitor experiences: the John Steinbeck Exhibition Hall, which houses seven themed theaters with film clips and interactive exhibits from the Nobel prize-winning author's works; the Rabobank Agriculture Museum, which explores the stories of the Salinas Valley "from field to fork"; and changing art and cultural exhibits and a variety education and public programs.
For more information about the National Steinbeck Center or past festivals, please visit the National Steinbeck Center's website at http://www.steinbeck.org. Tickets will be available for purchase in late May, at http://www.steinbeck.org or at (831) 775-4721. Full festival passport price of $150/135 members includes all events Friday through Sunday with the exception of lunches and events after 7 pm.
National Steinbeck Center
One Main Street
Salinas, CA 93901
(831) 775-4721
http://www.steinbeck.org
HOTEL INFORMATION. Holiday Inn Express & Suites, at 195 Kern Street in Salinas, offers a special Festival rate of $89.99/night + tax for a Standard room (1 King or 2 Queen) or $109.99 + tax = $121.49 for Suite Rooms (1 King or 2 Queen): http://www.hiexpress.com/salinascal or call (831) 737-1160.
IMAGES AVAILABLE:

Jane Smiley. (Photo: Mark Bennington.)
David Conrad
Des souris et des hommes (Of Mice and Men) by Pierre Alain Bertola
Actors in the Poetic Justice Project's Off The Hook. (Photo: Matthew J. Evans.)
Cannery Row, Cartooned
# # #