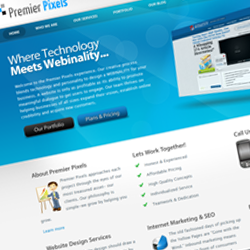 Get A Free Website & Boost Your Business
Las Vegas, NV (PRWEB) May 10, 2011
The economy is slowly crawling back, but for most-not fast enough. Entrepreneurs have been left to make some hard yet necessary decisions to stay afloat and it hasn't been easy. Cutting back on use-to- be luxuries were the first to go for struggling businesses. Then came the unavoidable trimming back on operating expenses or necessities like having a website updated or redesigned to maintain a fresh online image. And to what end?
The ones who've weathered the storm need to start thinking big again by planning ahead and begin building towards riding the next 'economic wave' back up. This sounds good in theory but action speaks louder than words. Then comes a long a company like Premier Pixels who personifies this mindset by taking it one step further.
In an unprecedented effort to 'put their money where their mouth is' Premier Pixels Las Vegas web design team is launching a free customized website design or redesign contest.
Their team will select one lucky winner and design a customized website completely free of charge (with 1 year of webhosting included). The contest winner will be chosen based on who provides the best answer to the following question:
How could a creative website designer add value to your online brand? (In 200 words or less)
The idea behind the contest is to help a fellow entrepreneur by giving them an opportunity to increase online revenues and revitalize their brand. Once a winner is chosen, Premier Pixels design team will set up a meeting with the winner, help them determine creative direction, then begin building out the details of their new web site.
So, what's the catch? There is none. It's been a breakout year for the Vegas based company. Their understanding of the challenges a company goes through when trying to get over the hump was the inspiration behind such a bold move. They believe this contest is the best way to give something back in order to help the next rising star take their business to the next level. The premise being a free custom built website would go a long way in helping add real value to the bottom line of a company.
In the world of free giveaways-this is as good as it gets. For any entrepreneurs who've been putting their current (or future) website on the backburner, this contest could be just what the doctor ordered. Visit Premier Pixels today and simply fill out the "Free Website Form" to learn more details. The rest speaks for itself.
# # #