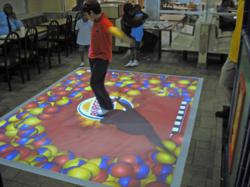 (PRWEB) May 09, 2011
EyeClick is thrilled to be exhibiting at the upcoming National Restaurant Association Show in Chicago. The NRA Show is one of the largest and the most anticipated tradeshows for food service and hospitality in the world. The show offers an exceptional platform for networking with some of the top-most operators from the food service industry. NRA 2011 is a key event for all leading industry professionals belonging to the restaurant and hospitality sector. From May 21th through the 24th EyeClick, will at McCormick Place Convention Center at booth 4277 showcasing the EyePlay interactive gaming system.
With EyePlay, multiple children can interact with games projected on the floor or walls. EyePlay is safer and lower maintenance than traditional play equipment as it is a complete virtual experience. There are a large variety of ready to go games like soccer and balloon party as well as the ability to create your own unique games. EyePlay has been installed in quick service and family style restaurants worldwide such as Burger King and GattiTown. EyeClick gives restaurateurs, designers, and marketing professionals the ability create rich interactive digital content in public spaces, including restaurants, hotels, airports, FECs, malls and other retail locations.
About EyeClick
EyeClick Ltd. (http://www.eyeclick.com) specializes in creating inventive products that transform designated spaces into magical experiences. The company's EyePlay™, EyeStep™, EyeWall™, EyeTouch™, and EyeBoard™ products open up a world of possibilities to engage audiences in out-of-home locations. EyeClick has helped leading brands, from Samsung and Volvo to NASA and GE, transform their floors, walls and window areas into spectacular interactive displays that leave a long-lasting impression on visitors. EyeClick gives restaurateurs, designers, event planners, retailers, media companies and other organizations the ability to showcase rich interactive digital content in public spaces, including restaurants, family entertainment centers, museums, malls, airports and retail locations.
###