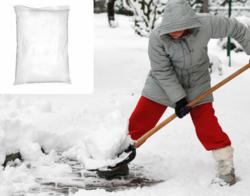 Be prepared and order Rock Salt before the Winter.
(PRWEB UK) 10 May 2011
After a particularly difficult season late in 2010, with early and persistent snow and record low temperatures, many were caught out without adequate stocks of rock salt. The sudden impact soon depleted stocks from all major suppliers. This led to a rapid escalation in prices as white salt was shipped in from Egypt and Russia to supplement our UK brown salt production which had been redirected to councils for the road network. By December all suppliers were running short and if January had been severe we would have run out, but January was quiet and stocks were slowly replaced.
In February everything returned to normal and there is plenty of salt available. Now in March we are talking to large users about their requirements for winter 2011. Again we don't know how bad or when, but we have had three years of harsher winters and disruption. This is likely to continue so where possible order before September to safeguard the quantity at pre-season prices. We are starting to pack this years salt now and shipping out to regional stores to secure stocks for companies at competitive prices and good availability. We look like we will be packing salt all summer whilst we can get UK rock salt. Our dedicated rock salt website conveniently shows all our rock salt products in one place.
###