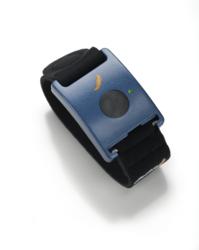 I believe the Q Sensor will radically transform the ability for researchers to obtain data in natural, non-laboratory settings."

-- Lucy Jane Miller, Ph.D., director of the STAR Center (Sensory Therapies And Research)
Waltham, MA (PRWEB) May 09, 2011
Affectiva released today the Q™ Sensor 1.0, a wireless, wearable biosensor that measures a key physical component of emotions such as excitement, stress, fear, engagement, boredom and relaxation.
Available in a prerelease version since November 2010, the Q Sensor has enabled over 100 organizations to gather emotion data as part of their market research, media measurement and clinical and therapeutic research.
Customers include Boston University, Dartmouth College, Inter Public Group, IvyMount School, Massachusetts General Hospital (MGH), STAR Center (Sensory Therapies And Research), University of Notre Dame, University of Oregon, University of Wisconsin and Stanford University.
The Q Sensor measures electrodermal activity -- also called skin conductance or galvanic skin response (GSR) -- motion and temperature. It provides objective biomarkers and can be used in natural settings over days or months, unlike traditional wired sensors that require lab settings.
Here is how one customer is using Q Sensors to help with therapeutic research:
"For over 30 years, my team has conducted research in children with autism spectrum disorders, attention deficit disorders, sensory processing disorders and other neurodevelopmental conditions. Since 1995 our emphasis has been on trying to understand the physiological underpinnings of inappropriate arousal. Our investigations of biomarkers and the effects of treatment for children with these challenges has been fruitful, but it is hampered by the costly and constrained laboratory setting we have been required to use.
"Now my team uses Q Sensors to monitor arousal in children and therapists during actual treatment sessions to 'see' the children's physiological arousal in real time in a non-laboratory setting. We also monitor the therapists' arousal to study when they are best able to co-regulate their clients. We even use the real-time data as biofeedback with children as young as five, who realize they can control their own arousal.
"It is a beautiful process watching both children and therapists 'see' their sympathetic activation and gain control over previously unmanageable arousal. The options are limitless, and I believe the Q Sensor will radically transform the ability for researchers to obtain data in natural, non-laboratory settings," said Lucy Jane Miller, Ph.D., director of the STAR Center (Sensory Therapies And Research) in Greenwood Village, CO.
The Q 1.0 includes a hardened case, 24-hour battery life and storage for three months of data. It comes in a wristwatch-style unit that is 2" x 1.5". An additional version, available this summer, is a 1.5" square unit that can be inserted into a soft band for use with children and on locations other than the wrist. Both versions include downloadable software for viewing data or for exporting it to common formats. The Q 1.0 is priced at $2,000 per unit, with discounts available for bulk purchase and non-profit uses.
The Q Sensor's core technology, which was developed at the Massachusetts Institute of Technology (MIT), has been validated in peer-reviewed journal papers demonstrating the accuracy of the electrodermal activity sensors used on the wrist compared to FDA-approved electrodermal activity sensors wired to fingertips. The validation is especially key for scientific researchers who have been constricted in the past to using wired sensors in lab settings.
"My primary area of research is depression in patients with heart disease. One of my research fellows and I are developing a project that examines whether sympathetic physiologic arousal is different in patients with depression or anxiety than in those without. The Q Sensor's unobtrusive form and validated data-readings will help make this possible without wiring patients to bulky devices," said Jeff Huffman, a physician in the psychiatry and medicine division at Massachusetts General Hospital in Boston, MA.
Affectiva was founded in 2009 by MIT Media Lab Professor Rosalind Picard and Dr. Rana el Kaliouby, two scientists who came together with National Science Foundation (NSF) funding to develop technologies to help people on the autism spectrum. Silicon Valley executive David Berman, formerly president of worldwide sales and services at Cisco WebEx, joined the company as CEO in 2010. It is privately held with funding from individuals and the Peder Sager Wallenberg Charitable Trust, represented by Lingfield AB.
###