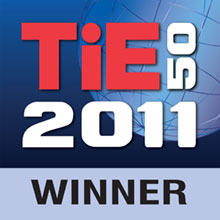 "TiE50 companies again represented an extraordinary set of ideas, innovation, and business opportunities. Since its inception two years ago, 94% of TiE50 companies have been funded, attracting over $20 Billion in investments said Ram K. Reddy, Chair TiE50
San Jose, CA (PRWEB) May 10, 2011
OrangeScape will be honored at TiEcon 2011 on May 13th & 14th 2011, at the Santa Clara Convention Center in Santa Clara, CA. TiEcon is the world's largest conference for entrepreneurs featuring two action-packed days of rich dialogue, networking, and deal making with thousands of entrepreneurs, venture capitalists, industry executives, and thought leaders.
"This year, the TiE50 program screened 1619 high quality companies worldwide, through a multi-tier screening and judging process. 'OrangeScape' was clearly ranked amongst the best of the breed by a team of 60 highly accomplished and experienced judges. These experts included globally recognized venture capitalists, CEO's, academia, and serial entrepreneurs," said Mr. Vish Mishra, Chairman of TiEcon 2011 and President of TiE Silicon Valley. "Being recognized as a TiE50 winner is a true testament to their entrepreneurial spirit and world class caliber," Mr. Mishra added.
"The TiE50 Award – recognizing OrangeScape as one the Top 50 promising companies World Wide by the Silicon Valley TiE comes as a true recognition of the technology and the tremendous business potential of OrangeScape as a global player in the PaaS/Cloud space. This recognition also comes at a time when we are aggressively pursuing our GTM in North America," said Suresh Sambandam, Founder and CEO of OrangeScape.
"TiEcon's platform and TiE's global entrepreneurial network enabled us to draw the most entrepreneurial startups with breakthrough technologies, savvy market strategies, and incredible teams with palpable passion. We built upon the phenomenal success of the program in the past two years," said Mateen Syed, Co-Chair TiE50 2011.
About OrangeScape
OrangeScape is a rare breed technology platform company, founded in 2003 with a vision to simplify business application development through visual development paradigm in the "Cloud". OrangeScape provides a Visual Platform-as-a-Service (PaaS) to build domain rich business applications and SaaS solutions, in the easiest and the fastest manner. OrangeScape is the only Cross-Cloud platform offering the ability to deploy on any cloud and also on-premise within a data-center. OrangeScape has a marquee customer list comprising Unilever, Citibank, Pfizer, AstraZeneca, Sterlite, Fullerton and many such large enterprises. OrangeScape is one of the 10 global companies featured in Gartner's 'PaaS competitive landscape' report and also has been featured in all the PaaS reports of Forrester. For more information, please visit: http://www.OrangeScape.com
For more information contact:
Ashish Bhagwat,
Vice President
OrangeScape Technologies Limited
###