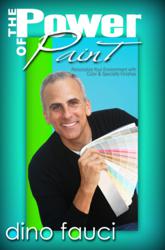 "When it comes to decisions on the design of our home, Dino is the lead-off batter! His ability to create inspiration with paint and color is laid out for everyone in The Power Of Paint. How fortunate we all are." Tom House - Former Pro Baseball Pitcher
Laguna, California (PRWEB) May 12, 2011
Finally a color and design book that provides proven professional trade methods on how to develop color and finish designs that will inspire and create harmony for each individual.
Dino's extraordinary methods will clearly help the reader understand and choose colors and finishes to best suit their space based on their own specific criteria, i.e. architecture, lighting décor and personal style rather than relying on current trends or theory alone.
The Power Of Paint brilliantly explains how to create personal environments, develop themes, how to solve design challenges, create amazing art pieces with forgotten personal items, identify quality products and describes true professional DIY techniques and much more. He also includes stories form various projects which add a personal touch.
An underlining theme is how to understand your environment, and most importantly, understanding what's most important to each reader. Dino cleverly explains how one can dramatically transform their space without the expense of remodeling while making each space truly personal. The Power Of Paint is available in Print and also an E-book at Amazon.com http://tinyurl.com/3pwpv24 and Barnes and Noble http://tinyurl.com/43rypjb
Art Director with Walt Disney Imagineering, Master Finisher, Designer, Painter, Artist, Instructor, Contractor, Author, Speaker and Entrepreneur are some of the tittles used to describe Dino Fauci. In addition to his design and finishing business that include clients such as Dixie Carter, Hal Holbrook, Babaloo Mandel, Joe Mantegna, Jonathan Kellerman, Leslie Ann Warren and Melody Thomas Scott, Dino also creates and art directs theme and character finishes for Walt Disney Imagineering at Disney theme parks in California, Florida and Japan. Dino's favorite project was the Tower of Terror at Tokyo Disney Sea in Japan which is the largest theme painted building in the world. http://tinyurl.com/3ccrqdt
Dino is truly an anomaly in the business which is proven by his extraordinary career.
He has been creating environments for over 30 years. Beginning his career at an early age, Dino worked for his family business where he learned the traditional painting and wall covering trade from his father and many old school craftsmen. At age 23 he starting his own business and went on to learn decorative and faux arts from leaders in the field. Dino excelled in this area and quickly became a leader in his own right. Dino began working with Disney as an Imagineer in 1997 and has since worked at Disney's Animal Kingdom, Disneyland, Disney's California Adventure, Tokyo Disneyland and Tokyo Disney Sea. Dino is currently involved with the Cars Land project at California Adventure in Anaheim, California.
When asked to sum up what it is exactly you do? Dino answered: "I'm a storyteller. As a writer uses words, I use paint, color and specialized techniques to tell stories. When I create a design be it in a home, business or theme park, the viewer is taken on a visual journey which is then transformed into an emotional experience. When my design goes from visually pleasing to physical pleasing, I have been successful in creating the story."
Dino attributes the success of his work to understanding the "why" in a design. Knowing the "why" of his client's desires, the architecture, lighting and all the elements in the composition are what make his designs so harmonious. "Composing a design is much like composing music" Dino explains. "Just as notes belong to a scale, design elements belong to a space". Dino is truly a color and finish composer. Reviewing just a few pictures on Dino's website will confirm just how exceptional and unique Dino's work is. http://paintcolordesign.com
In addition to his book, Dino has developed a television program based on The Power Of Paint. This program, like Dino, will be distinctly different than anything before it. He is also bringing his POP (power of paint) method "live" through seminars and workshops. Dino is on a passionate mission to teach everyone how to solve design challenges and transform their space with paint. Now their home or business can become their own personalized space that represents their personality and lifestyle while complementing the architectural style, even when there's very little work with. To review a previous video of a home Dino transformed please visit: http://tinyurl.com/3kz3lvq.
# # #