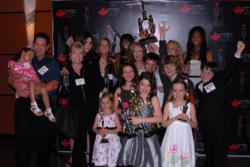 Toronto, Ontario (PRWEB) May 10, 2011
Carolyn's Model & Talent Agency is proud to announce the great success of their models and actors at the 2011 Canadian Model & Talent Convention in Markham, Ontario. Carolyn's Model & Talent Wins the Award of Talent Agency of the Year!
Carolyn's Model and Talent wishes to congratulate all the Models and Actors that competed for their professionalism and their awards as follows:
Congratulations and a big Thank You to Acting Coach Diane!
Singing
1st Runner up Kassidy D
Dance
2nd Runner up Alexa C
1st Runner up Christina Q
Runway
2nd Runner up Aneesa L
1st Runway Dougleshia R
Photography
1st Runner up Aneesa L
Swimsuit
1st Runner up Dougleshia R
Cold Read
Winner Stephanie R
Kids Casting
2nd Runner Up Thea W
Improv
1st Runner Up Lola R
TV Commercial
1st Runner up Eden Sanders
TV Commercial
2nd Runner up Danielle M
2nd Runner Up April C ( Adult Div) 1st runner up -cold reading (12 and up)
1st runner up - Erin R commercial print (ingenue)
Winner -tv commercial (ingenue) Erin R
Winner -monologue (12 and up) Erin R
Winner -improv (12 and up) Erin R
Grand Overall ACTOR of the YEAR
Erin R
Carolyn's Models received many callbacks from Agencies from Milan, Paris, New York, Los Angeles, Taipei and many more!
###