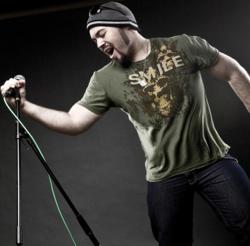 My goal in music is to inspire
Madison, WI (PRWEB) May 09, 2011
Ryan Jordan moves from #59 to #44 on the Hot 100 Singles Charts, leaving mainstream artists like Eric Clapton and Linkin Park behind.
"For A Little While," the first radio hit from independent album, "Blue Day," proved to be charming and original in a modern age of electronic music. "For A Little While," a simple yet classic top 40 track, inspires the masses with a message that it is OKAY to be single, to be yourself, and to be independent. Still climbing the charts, Ryan Jordan displays musical integrity that is unheard of in today's industry. Over 1,274 spins in 4 weeks, Ryan is a rare artist that holds strong at #38 on the mainstream AC radio charts.
"My goal in music is to inspire," says Ryan in a recent interview. Music got me through my life and I cannot imagine where I would be today without it. Some people smoke, do drugs, or drink themselves into oblivion. My vice was and will always be music. I write material that makes me want to be stronger, taller, and bolder than I ever dreamed possible. Music is a true gift from above and I plan to honor that gift.
"Sessions LIVE," a new EP (May 31, 2011) will give Ryan Jordan fans something to remember. Five tracks, new and old, will invite the listener to an acoustic setting where real vocals meet LIVE music. "My favorite part about making music is performing it in the way in which it was written. I am excited for people to hear the best of me."
Ryan is currently in the studio recording 4 additional tracks to complete his second studio album. Still searching for a good home for his sophomore record, Ryan seeks a major record label that is not afraid to get personal, be original, and get back to basics.
Get a free copy of a rare acoustic mix of, "For A Little While," on the official website for Ryan Jordan. http://www.ryanjordanonline.com
###