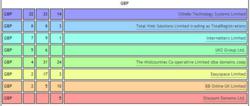 London, UK (PRWEB UK) 10 May 2011
Latest research has shown that Othello Technology Systems Ltd domain name registration service at OthelloNAMES.net are the best value UK/GBP ICANN accredited domain registrars.
The research was carried out by Dot and Co, a French based company that publishes news on ICANN domain names and pricing internationally and shows that Othello was the cheapest domain registration company on 32 TLDs (Top Level Domains) – 3 times as many as any other registrar.
Rob Golding, MD of Othello Technology Systems is not surprised at these findings. He says "We've known for some time that we are the UK's best value-for-money domain registration company, but it's great to get independent feedback. Plus our monthly featured-TLD program now gives extra discounts and regular offers to our clients."
Othello provides domain name registration and hosting services from their own London Docklands based Tier-3 London data-centre.
The company allows for registration and hosting of over 200 types of domains, from a basic dot-dom to the more specific and highly regulated types of dot-pro and dot-jobs. Clients manage their domain portfolio through a simple to use online website.
"Our domain name registration service gives registrants total control through the client portal, making it easy to control your domains whether you have just 1 or 10,000", Rob continues. "The new bulk migration tools make it easy to transfer domains into Othello, gaining the benefit from our competitive pricing and integrated services."
Othello are committed to excellence in the domain registration arena and are active participants in ICANN meetings and working-groups, helping to shape the future of the Internet, one policy at a time.
###