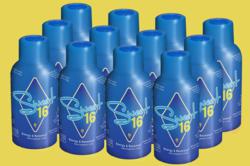 Sweet 16 is a natural weight loss thermogenic for people who are tired of feeling sluggish and out of shape and want to have the energy to support a healthier lifestyle.
Provo, UT (PRWEB) May 09, 2011
Bonavitas announces today the launch of its non alcoholic drink, Sweet16. This non alcoholic cocktail is a combination of powerful energy nutrients including honey and capsaicin. Capsaicin is the chemical in spicy foods that is responsible for their "heat" or "hotness." This thermogenic phytochemical synergistically increases mental acuity, metabolism and energy production for an immediate and sustained energy boost you can feel.
Sweet16's powerful ingredients combine to help burn fat—especially that hard-to-lose belly fat—improve mood and fight the free radical cells that can cause one to get sick and age faster. These natural super foods include lemon, lime, honey, and cayenne, and they improve the body's well-being in the following ways:

Lime and lemon helpful in weight-loss and a rich source of vitamin C
Honey natural fruit sugars combat fatigue during exercise
Cayenne pepper boosts mental focus and gives added zing
"Sweet16 is for people who want an energy drink without the effects of caffeine that improve stamina, help burn belly fat for weight loss and increase focus and concentration," said Jacques Jonassaint, CEO of Bonavitas. "Sweet16 is a natural weight loss thermogenic for people who are tired of feeling sluggish and out of shape and want to have the energy to support a healthier lifestyle."
ABOUT BONAVITAS
Headquartered in Provo, Utah, Bonavitas is a wellness company dedicated to the development and distribution of nutritional products that use science and natural ingredients for enhanced recovery, energy and overall fitness. Bonavitas chooses the nutrients and antioxidants that go into each product, based on scientifically supported benefits. Bonavitas offers a new approach to wellness – for everyone from bodybuilding professionals to moms on the go, fitness experts to weekend warriors and anyone with a pulse. http://www.bonavitas.com
###