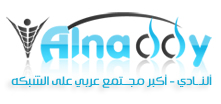 the editing staff of Alnaddy takes special care when it comes to content control, focusing on educational games, mainly in English, that are not only entertaining but also provide a real value for children
Cairo, Egypt (PRWEB) May 11, 2011
Arabic portal Alnaddy is launching an advanced and up-to-date games section. The games section is a portal within itself that contains thousands of online games that provide endless hours of entertainment, for visitors of all age groups. Each game is provided with play instructions and information, and the site's support staff is available for advice in case of problems or questions.
The games featured on Alnaddy are handpicked from the leading online games today. Our mission is to provide our visitors with the latest hits without compromising on principles of quality. All the games are drawn directly from leading and reliable internet content providers. This enables us to expose children to high quality, family-appropriate content from all over the world, in the Arabic language.
The game section was designed through a study of the user's needs to ensure that the most suitable and user-friendly settings are selected, based on examinations of Alnaddy staff in cooperation of the site's users. Alnaddy makes sure to stay in touch with the visitors by reading feedback and recommendations, establishing a personal relationship with senior users, and by encouraging forum activity. The criteria set for the design of the games portal were based on balance between innovative and compelling visuals, and the user's convenience of use and customization of the interface.
Online games are a very attractive online resource for all web users, and for children in particular. That is why the editing staff of Alnaddy takes special care when it comes to content control. The editing staff focuses on educational games, mainly in English, that are not only entertaining but also provide a real value for children – making them computer-friendly in order to prepare them for a technological future. The games are an efficient method to teach children English as well as computer skills.
It is important to state that each and every game goes through a quality assurance process, where the staff of Alnaddy examines the quality of the games, both in terms of content, as well as in terms of technical performance, in order to guarantee that the young visitors of Alnaddy are exposed to safe and high quality content. In fact, each game offered to the visitors was tested and tried by a staff member.
About Alnaddy.com
Alnaddy is an Arabic internet portal that has been providing quality content to millions of visitors from all over the Arab world for seven years now. The site provides various content channels that update around the clock to deliver the latest news, useful information that include weather reports and prayer times, as well as popular content such as lyrics of hit songs, celebrity news, Women's information channel and more.
The site operates a vast dating section with tens of thousands of members from all over the Arab world that use the site to seek and find life partners. The service is completely free of charge.
Visit Alnaddy's innovative games portal today, and start enjoying hours of free entertainment and educational games.
###