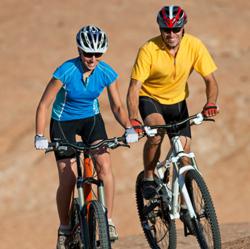 a break could be as short as one minute and not necessarily entail exercise to be of benefit
Bolton, Lancashire (PRWEB) May 10, 2011
A study published last week in the European Heart Journal revealed that sitting for long periods of time can damage your health. In some cases, irreparable and significant damage is caused, doubling the risk of some bowel cancers, heart problems and metabolic syndrome. Spending 10 years or more in a desk job triggers chemical reactions, and that the effects of long periods of inactivity cannot always be rectified by taking more exercise.
What can undo the damage from inactivity are regular bursts of movement, every half hour for around three minutes a time. In the future, scientists have predicted that these 'micro-breaks' will be promoted as much as conventional exercise sessions are today.
Andy Taylor, of Rockspex, online retailers of sports prescription glasses and prescription motorcycle glasses, suggests different ways to incorporate micro-breaks into a daily routine for even the most exercise-shy.
'In the current climate, more and more of us are realising the health benefits of physical exercise. In my line of work, I meet a wide range of people, from accomplished sportsmen to those who are a cautiously adopting exercise and sports into their routines.' He says. 'It's nice to advise an individual on the correct pair of prescription cycling sunglasses for example, and six months later they return to me and tell me that their new hobby has developed into a positive interest.'
'Physical exercise is something we should all be indulging in, regardless of our aptitude, or in the case of me and my customers, our eyesight restrictions.' Dr Genevieve Healy, of Australia's University of Queensland, has conducted research into the investigation of inactivity and advises that 'a break could be as short as one minute and not necessarily entail exercise to be of benefit.'
It was in the 1950s that scientist Jerry Morris was the first to prove the link between health and regular exercise, by conducting a simple experiment on the public transport system. He monitored the staff of buses, and noted in his results that the bus drivers were twice as likely to suffer from a heart attack in comparison to the 'mobile' conductors that were employed at the time. Whereas the drivers remained stationary for long periods of time, the energetic conductors ran up and down as many as 750 stairs per shift.
Scientists have since deduced that walking up a single flight of stairs can burn off around 15 calories; low impact and safe on the knees, swapping the lift for the stairs also gives your heart a good workout. Choosing stairs over lifts equals a 15% reduction in the risk of premature death, according to the research team at the University of Geneva in Switzerland.
'This suggests stair-climbing can have major public health implications,' says the lead researcher Dr Philippe Meyer. Of course, you should walk more to increase your exercise levels. 'Pump your arms and squeeze your buttocks when you're walking,' says fitness and weight loss expert, Laura Williams. 'Turn a short stroll into a mini-workout that will tone the tops of arms and behind. Add in a couple of flights of stairs as it's even better for burning calories.'
Taking breaks during long periods of activity to drink a glass of water is also wise advice, as this ensures continuous blood circulation in your limbs and prevents them from being strained by sitting still. 'Consuming your standard eight glasses of water a day should be a priority, regardless of what your sport or exercise regime is,' says Andy Taylor.
'Increasing your intake of fluids is especially useful for outside activities where you may be in the sun for extended periods of time, such as cycling, running, golf or shooting. If your eyesight is below par, we can provide you with specially designed sports prescription glasses, prescription shooting glasses and prescription cycling glasses if need be.'
Simply standing at a desk instead of sitting on a chair burns 60 more calories per hour. 'If you rotate the spine left and right while standing it can increase the blood flow to parts of the spine that become under-nourished when you sit for longer than 30 minutes,' says Simon Fairthorne, a physiotherapist for Bupa. 'Housework is an excellent opportunity to tone and strengthen muscles and get the heart pumping,' says Juliette Kellow, advisor for Weight Loss Resources.
To maximise the benefits gained housework, you must increase the level of effort involved. For example, to load the washing machine, don't bend down, but perform repetitive squats instead.' When Andy Taylor is not retailing prescription sports sunglasses, he is a veritable mine of health and sports related trivia. 'Get a Gym ball for a health conscious replacement to a standard office chair. Although they're often used for crunches, they can also strengthen your core and spine as your muscles contract to allow you to sit on a movable object'.
'It can also make your back stronger and help you lose weight,' adds Antony Delamare. 'Just sitting on one means you can burn an extra 350 calories per day and it decreases back pain.' If you use a standard desk or office chair, maximise the effort required for your micro-breaks by getting up slowly.
'Replicate a squat at the gym, tilting your pelvis out and focussing on your legs doing the work rather than your back,' says personal trainer Dan Roberts. 'If you do this every time you get off your chair, it's like doing 100 squats a day without setting foot in a gym.'
'To incorporate more physical exertion into your daily routine does not necessarily mean adopting a sport of any kind, but it is useful to work towards a goal to chart your results if anything,' says owner of the prescription sports glasses retailer, Andy Taylor. 'As an accomplished climber with limited eyesight myself, I can help you choose the correct prescription sports glasses for whatever activity you wish to adopt, and also advise you on the best sports to get started.'
For Bolle prescription sunglasses, visit Sports Prescription Glasses by Rockspex
This Press Release is part of an SEO campaign by Vizcom. For more information please click Search Engine Optimisation Manchester.
###