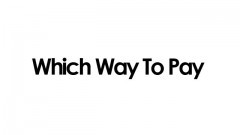 Which Way To Pay® 'The World's Price Comparison Website'
(PRWEB) May 11, 2011
Due to the growth and success of Which Way To Pay®, also known as 'The World's Price Comparison Website', the business has now been launched in the US with a dedicated regional portal designed for the US consumer.
The new site, Which Way To Pay USA™, (http://www.whichwaytopayusa.com) is now online and offers American consumers an easy-to-use comparison and reviews system on a wide range of financial products and services. The US portal has its base in one of the world's greatest landmarks, the Empire State Building in NYC while the firm still operates its headquarters from London.
The Which Way To Pay name has become a market leader for its straightforward and popular product and service listings, in addition to a great many value-added features. The original firm was launched in Great Britain as a two-man startup with just a small studio to call an office. Within a startlingly short space of time, the website grew in popularity and soon stood firm among its competitors. The decision to add a portal dedicated for the USA was a logical move especially given the global response that the UK site was receiving, including from consumers in North America and Australasia.
Which Way To Pay USA™ offers a broad spectrum of product ranges for consumers to compare in their own time, including: Foreign Exchange for Private and Corporate clients, Money Transfers, Loans, Money, Credit Cards and Insurance. Each area offers a tried-and-tested comparison chart with all the essential product features laid out clearly, as well as a detailed information page for each product. In addition, site visitors can read an individual and independent review for each product and service, giving them an extra viewpoint which might help them to make a more balanced final choice. Reviews include a simple 1 to 5 star rating, to give consumers a basic idea of the overall quality of the product.
The foreign exchange area of Which Way To Pay USA™ includes some of the top currency brokerages, who can offer the best exchange rates while giving clients a one-to-one tailored service. Regardless of whether the client is a private individual seeking a low cost method of carrying out international payments or a corporation looking for the ultimate global payment system, the experts listed on Which Way To Pay USA™ can offer an unbeatable service. Clients can set up regular transfers for an overseas mortgage, overseas school or college fees, pay for imports or manage staff at a rate which is within 1% and 3% of the Inter-bank spot rate.
Other areas of the site also boast some of the top names within their fields, from fast cash loans to real estate payment solutions, auto loans and business financing. The Card area alone offers 8 different card types including reward credit cards, business credit cards, charge cards, student credit cards, prepaid cards, bad credit rating cards and gift cards. The Money section offers a wide range of products and services from debt management, credit reports, legal services, checking accounts, savings accounts and identity theft protection. Of the nine different types of insurance compared on Which Way To Pay USA™, its founders are confident that every consumer will find something to suit their needs.
Of course, use of the site is entirely free of charge and at no time do website visitors feel pressured to apply or buy – there is no obligation at any time. Instead, the consumer takes charge and decides in their own time what is and is not compatible with their lifestyle and pocket.
Which Way To Pay USA™ offers more than just comparisons and reviews; there are also extensive value-added features including the popular Info Library, filled with basic facts, FAQs and vital information on each and every service and product range listed on the site. Additionally, there are 8 different sections for news and advice articles – published daily, trading reports, currency charts, currency rates, a currency converter, an Economic Calendar and World Interest Rates. Site visitors can also opt to follow Which Way To Pay on Facebook and Twitter.
Which Way To Pay USA™ is happy to serve the US and its consumers and looks forward to continuing its dedicated offering of free, quality comparisons and information in the region, as it has done for the British marketplace. Look out for further regional Which Way To Pay websites around the world.
###