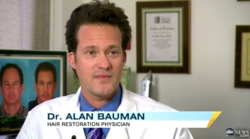 Today, thanks to new technology and medical advancements, hair loss is no longer inevitable - it's optional.
Boca Raton, FL (PRWEB) May 10, 2011
How early you spot your thinning hair determines how much hair you save. If you wait until the hair loss is visible to the naked eye, you're too late – 50 percent is already gone.
National hair restoration expert Alan J. Bauman, M.D., founder and medical director of Bauman Medical Group in Boca Raton, was featured last week on ABC's Good Morning America, FOX News, and The New York Times discussing the benefits of new procedures and treatment options.
Today, thanks to new technology and medical advancements, hair loss is no longer inevitable – it's optional.
Latisse for Hair Loss: Latisse (Bimatoprost) is already FDA approved to grow longer eyelashes. Allergan in currently in phase I clinical trials to use it on male and female pattern hair loss as well. If it succeeds, it will be only the second topical treatment to receive FDA approval for hair loss (the other is Minoxidil/Rogaine). Dr. Bauman is already prescribing Latisse for off-label use on the scalp in some patients and seeing positive results. Both the New York Times and Good Morning America featured Dr. Bauman's pioneering research with Latisse. Read the NY Times story or watch the GMA interview.
Laser Therapy: FDA approved, low-level lasers are a key new weapon in the battle against thinning - and not just for men, but for women too. LaserCap, is the latest breakthrough in laser therapy, the "hands-free" offers the power of a clinical laser therapy unit in a cordless, rechargeable, discreet treatment device that literally 'fits under your hat' for non-chemical, non-invasive, pain-free treatment almost anywhere, anytime.
HairCheck: Simple, painless, non-invasive way to measure and track the amount of hair growing in a given area of scalp (called your Hair Mass Index or "HairNumber"). This information allows patients to follow and track their treatment to maximize effectiveness. HairCheck is also a valuable tool as it can also quantify the degree of hair breakage from harsh hair care regimens. HairCheck is what Dr. Bauman was using in the Good Morning America segment to calculate the benefits of Latisse on male pattern hair loss.
Hair Transplant Robotics: The first robot designed to perform part of the hair transplant procedure has recently gained FDA approval. Called the ARTAS System, it's an image-guided robot that promises to harvest up to 1,000 hair grafts in a single hour – which may make hair transplant surgery more efficient. FOX News interviewed Dr. Bauman about the new robotic transplant. Watch the interview.
NeoGraft FUE: Less invasive hair transplants allow for the transplantation of hair without the 'telltale' signs. Automated NeoGraft device helps the surgeon extracts hair follicles from the donor area of the scalp individually without the need for scalpel or stitches, leaving no linear scar. Recovery is faster, more comfortable and less restrictive. Artistic hairline design and single-follicle transplantation techniques create hair transplant results that truly defy detection.
Genetic Hair Loss Testing: By the age of 35, two-thirds of men will start losing their hair. But how do you know for sure if you're at risk? New genetic tests can accurately determine a man's (and woman's) risk for losing hair so they can begin preventative treatments early.
Cell Therapy: Helping the body heal itself through cell therapy is a hot trend today in medicine. The use of autologous PRP (platelet rich plasma) for wound healing after hair transplants and as a stand-alone treatment for enhancing hair growth is becoming more widespread as research continues. The application of PRP to the scalp requires short outpatient visits every eight to twelve weeks.
Future Treatments: In the not-so-distant future, science may be able to stop baldness before it starts. Research is currently underway for the genetic modification of hair follicles that would make them resistant to the hair-killing hormone DHT. Scientists are also learning how to clone hair follicles - this could lead to cloned DHT-resistant follicles or just a larger stock of hair follicles for traditional transplantation.
To discuss which treatment option is right for you or your risk for future hair loss, contact Bauman Medical Group today at 877-BAUMAN-9 or visit http://www.baumanmedical.com.
ABOUT BAUMAN MEDICAL GROUP:
Bauman Medical Group in Boca Raton, FL is a hair restoration clinic led by internationally renowned hair restoration expert Alan J. Bauman, M.D. A board certified hair restoration surgeon, Dr. Bauman provides the latest hair restoration treatments to hundreds of men and women each year, and is often one of the first US medical facilities to research 'beta' treatments and utilize newly approved technologies. Dr. Bauman has helped to pioneer such medical hair loss treatments as low-level laser therapy; prostaglandin analogues, eyelash transplants and no-scalpel no-stitch microsurgical hair transplant procedures.
# # #