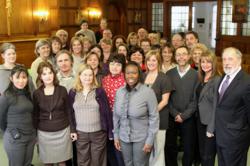 It's our people who are the most important asset," noted Bob Ross, St. Joseph's President and CEO.
Saranac Lake, NY (PRWEB) May 09, 2011
The Society for Human Resources Management has designated St. Joseph's Addiction Treatment & Recovery Centers as the 15th of the Best Places to Work in New York State. St. Joseph's also received the Best Places to Work recognition in 2009.
St. Joseph's provides residential treatment to 300 men and women annually at its inpatient facility in Saranac Lake, and to over 1,300 clients through its network of five outpatient clinics in northern New York.
Treatment Model
St. Joseph's intensive treatment model is based on a combination of traditional and cutting edge approaches to healing. Treatment can extend to 90 days, which is longer and more effective than traditionally shorter stays. St. Joseph's multidisciplinary team approach to healing utilizes many principles espoused by the philosophies of the self-help fellowships of both Alcoholics Anonymous and Narcotics Anonymous.
St. Joseph's also maintains continuing education programs (and internship opportunities) with area colleges and a 10-year-old partnership with House of Hope on the Hill, a Russian treatment center. Additionally, highly synergistic and collaborative relationships with area hospitals and non-profits have played a key role in the organization's success.
A recent outcome study revealed that a remarkable 93% of the men and women who have come to the agency for treatment maintain sobriety, avoid recidivism, and have made significant progress with employment.
Investment in Employees
While many companies are reducing payrolls, benefits, and training, St. Joseph's, which employs 139 clinicians, administrators and other support personnel, has continued to hire, has maintained generous benefits, and has expanded programming. "That's how you tell your staff they're really important, because they are. It's our people who are the most important asset," noted Bob Ross, St. Joseph's President and CEO.
Of particular note is the creation of the Talent Management Institute which provides an avenue through which employees can assess their current skills and knowledge, explore their career objectives and create a development plan to reach their objectives. The program has generated notable appreciation from employees and recognition from area companies seeking to partner with the organization.
As Katie Kirkpatrick, St. Joseph's Chief Talent Officer, notes, "The best way to take care of our clients is to take care of our employees."
Healing for Veterans
In addition to new programming for employees, St. Joseph's is looking forward to construction of its Long-Term Community Residence for veterans suffering from Post Traumatic Stress Disorder and substance abuse which is planned for this year.
A Department of Health and Human Resources report cites 1.8 million veterans experienced serious psychological stress during the past year. In addition, an equal number of veterans met the criteria for a substance use disorder during the past 12 months.
As Senator Betty Little, in whose district St. Joseph's resides, notes, "The need for aided recovery is clear and I'm confident with St. Joseph's tradition of healing, the brave men and women returning from war zones can find the necessary treatment to aid in readjustment and recovery."
About St. Joseph's
St. Joseph's Addiction Treatment and Recovery Centers is a not-for-profit corporation that provides premier inpatient and outpatient alcoholism, substance abuse, and gambling addiction services for residents of New York and surrounding states. Headquartered in New York's Adirondack Region, St. Joseph's has been a leader in addiction treatment services since 1971, offering treatment services with an emphasis on spirituality and the recognition of the worth and dignity of each client.
(518) 891-3801 ext. 248
wwwstjoestreatment.org
contact: Jim Grant
###