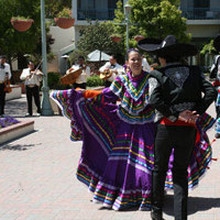 Monterey (PRWEB) May 09, 2011
It's Monterey's 241st birthday and the city is celebrating on June 4 with La Merienda – Spanish for afternoon picnic or mid-day meal – sponsored by the Monterey History and Art Association.
The party that typically attracts about 500 people will be held in the beautiful Memory Garden in Monterey, part of the State Park system, with garden activities starting at 11 a.m. and the birthday ceremony starting at noon. Adult tickets are $75 for MHAA members and $100 for others. Ticket prices are reduced to $55 each for purchasers of tables for eight to 10 people. Reservations are required. Guests have a choice of chicken or the traditional steak and, of course, birthday cake. Deadline for tickets is Saturday, May 21.
Tickets can be purchased by calling MHAA at (831)372-2608 or by sending a check to La Merienda – MHAA, 5 Custom House Plaza, Monterey, CA 93940.
Background on La Merienda:
La Merienda) celebrates the founding of the town of Monterey by Father Junipero Serra and Captain Gaspar de Portola on June 3, 1770. Their meeting also honored the founding of the "Royal Presidio Chapel", known today as San Carlos Cathedral. After the ceremonies that day, everyone sat down for a picnic under an oak tree near their ship, the San Antonio, in the harbor. The Monterey History and Art Association has celebrated this historic event every year since the Association was established in 1931.
This colorful and fun party within a party typically attracts 600 people, including local and international dignitaries, features a procession, mariachi bands, dancers, and a steak barbecue. It also includes a giant 75-pound beautifully decorated birthday cake that is festooned with fresh roses. The cake is carried in by local youths (cake-bearers), and sliced with the sword of Colonel Roger S. Fitch, the first President of the Monterey History and Art Association. Three young women are chosen each year for ceremonial positions. One young woman is chosen as "La Favorita", the belle of the day's festivities. Two other young women are selected to serve as her attendants ("Doncellas"). The women who are chosen for these roles, accompanied by a chaperone ("La Duena") can trace their ancestry back through Monterey history many generations. These women dress in traditional white Spanish gowns and mantillas (scarfs) and greet guests, cut the birthday cake, and hold court at the celebration.
As people gather in Sensory Gardens prior to the start of La Merienda, they will be entertained by mariachis and the youthful dancing of "Las Semillas de Esperanza" (Seeds of Hope). Following the barbecue and cake-cutting, entertainment will be provided by the always-popular Mike Marotta Jr. Band (with a few special guests).
Background on Monterey History and Art Association:
Mission: The Monterey History and Art Association…..sharing the histories and the diverse legacies of people, stories, and places that continue to shape Monterey. "A museum is not about its collections, but about the conversations it holds with its constituents"
From its founding in 1931, the Monterey History & Art Association's primary mission has been to help preserve the irreplaceable reminders of Monterey's colorful heritage.
Over the past seven decades, the Association has worked closely with the City of Monterey, the California Department of Parks and Recreation, the National Trust for Historic Preservation, and other agencies. As a result, more old adobes have been preserved and restored in Monterey than anywhere else in California.
The Association instituted Monterey's historic landmark program and created the Path of History which guides visitors to historic sites in old Monterey. It possesses extensive collections of furnishings, paintings, photographs, costumes, books, manuscripts, and other artifacts, and is the parent organization of the following Monterey institutions:
Monterey History & Maritime Museum
Casa Serrano
Mayo Hayes O'Donnell Library
The Association has been a guiding force in Monterey's vital historic stewardship. The guarding of Monterey's precious community assets and the preservation and presentation of its historical heritage for future enjoyment has been made possible by citizens who care and give generously of their time and resources.
###