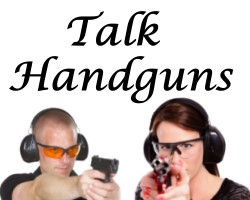 Forums, photos, videos and more for handgun enthusiasts.
Taos, NM (PRWEB) May 09, 2011
Google Adwords is used by millions of businesses to purchase position for their advertisements in Google Search Results Pages. There is a group, however, that is barred from advertising with Adwords, as they manufacture, sell and promote handguns or the legal use of handguns.
A new networking site for handgun enthusiasts at TalkHandguns.com attempted to set up a Google Adwords ad for the site. The site provides forums for handgun discussions related to the guns themselves, accessories, 2nd Amendment issues and handgun safety. It also provides individual blogs for members and the ability to upload videos and photos.
According to the founder of the Talk Handguns site, the Adwords site refused the ad with the instruction that it could not contain the words "handgun" or "handguns." Research shows that there are indeed no Adwords ads that contain those keywords in the paid positions in Google searches. However, Google doesn't censor or limit its free results searches, which yield thousands of links to handgun and firearms forums, manufacturers or vendors. This is admirable, but display is based on Google's secret search algorithm and most sites never reach a first page position. This makes the paid positioning valuable to sites that otherwise would be buried deep in the search results.
In Google Help, this page gives this information: "Weapons: Advertising is not permitted for the promotion of certain weapons, such as firearms, firearm components, ammunition, balisongs (switchblades), butterfly knives, and brass knuckles."
Google Adwords is a business, and can elect to advertise or not advertise material according to their business policies. However, there is some inconsistency related to Google's inability to identify sites that advertise related products such as holsters and clothing and may also sell or promote firearms, as well as "concealed carry" information sites which are related mostly to handgun carry. Concealed carry refers to the carrying of a firearm concealed on the person, not visible to others. It is legal in many states with appropriate education, training and adherence to a permit process.
When the key phrase "concealed carry pistols" is typed into a Google Search, there are ads down the right side of the display, the paid ads, and as the attached image shows, the top ad is for a firearms manufacturer. Clearly there are no banned words in the ad, but the link takes the searcher to the home page of a firearms manufacturer selling handguns.
Using the words "concealed carry" alone also yields results related to clothing and accessories for the carrying of a firearm. Some of these sites either promote handguns, sell them, or use affiliate marketing links to sell handguns.
Jim Kimmons, the founder of TalkHandguns.com states that he has used Adwords for many years for other businesses, and he is disappointed that Google Adwords will not allow the paid exposure of his site for the purpose of building membership. It is brand new, and current members include armed forces veterans (Jim spent two+ years in Vietnam), current military, retired military and law enforcement personnel, as well as firearms enthusiasts in all walks of life.
###