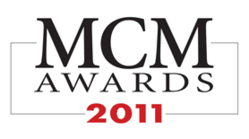 We see it as clear evidence of our commitment to our customers.
New York, NY (PRWEB) May 10, 2011
Presented at a luncheon during Multichannel Merchant's two-day MCM Live event, several leading multichannel retailers were recognized with Gold and Silver awards for quality in both print and web. The MCM Awards are the industry's top honors for B-to-B and B-to-C multichannel marketers.
In its first year of circulation, the Fat Brain Toys print catalog was selected as a Finalist in the Children's Products division. However, the highlight for the company came when it's website, http://www.FatBrainToys.com, was named a "SILVER" award winner in the e-commerce category.
"We're extremely flattered to receive this distinction from Multichannel Merchant Magazine," said Mark Carson, President & Co-Founder of Fat Brain Toys. "We see it as clear evidence of our commitment to our customers. We'll continue to work hard to provide our customers with the resources that enable them to find the perfect toys and games for their loved ones."
Fat Brain Toys joins an exclusive club of award winners in 2011 including LL Bean, eBags.com, Orvis, Hewlett-Packard, and Crutchfield.
A unique feature of the MCM Awards is that judging is done by a pool of experts that include some of the brightest minds in catalog marketing, e-commerce and cross-channel retail. These judges provide each MCM Awards entrant with constructive feedback on a variety of aspects. Some of the judges comments about FatBrainToys.com included:
"Great product page graphic presentation of toys, ratings, reviews, and alternative images of the product in use."
"Outstanding merchandising - Excellent use of customer testimonials as well as video to provide additional information about the product. Tons of product detail with no question left unanswered. Great copy writing!"
The MCM Award follows closely on the heels of two other recent distinctions for Fat Brain Toys, a 2011 Stevie(R) Award for Customer Service and an "Elite" rating by customer service evaluation company, STELLAService(TM).
About Fat Brain Toys
Begun as a literal garage startup in 2002, husband and wife team Mark & Karen Carson have grown their company into one of the largest independent retailers of specialty toys in the country. Recognized as one of the fastest growing e-retailers by Internet Retailer magazine, Fat Brain Toys credits their rapid growth to offering quality toys coupled with truly remarkable customer care. You can see their complete selection of specialty toys at http://www.fatbraintoys.com
###