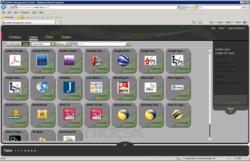 The combination of VMware and Unidesk lets us provide desktops that even our savviest power users will accept, with access options ranging from energy-efficient thin clients to student-owned PCs and Apple iPads.
Marlborough, Mass. (PRWEB) May 10, 2011
Menlo College, a premier Silicon Valley business school, is undertaking one of the most comprehensive hosted virtual desktop rollouts in higher education, simultaneously deploying persistent and non-persistent virtual desktops for all of its users and use cases, including student labs, the library, administration, faculty, and staff. The campus-wide Virtual Desktop Infrastructure (VDI) initiative will give students greater access to lab applications, reduce the operational costs of desktop management, minimize the capital expenses needed for PC refresh, and reduce the college's carbon footprint. Menlo College is using technology from Unidesk® and VMware as the foundation for its VDI project, leveraging Unidesk's ability to create virtual desktops using only local storage to bring the annual cost per desktop under $300, about the same as physical PC replacements.
The college's virtual desktop solution is based on VMware vSphere®, VMware View™ and Unidesk, using HP Servers and local storage, with access provided by Pano Logic zero clients and 10zig Thin Clients. Further project details will be shared in a free live webinar on Wed., May 11, 2011, at 2:00 p.m. ET featuring Menlo College CIO Raechelle Clemmons, VMware Senior Product Marketing Manager for End User Computing Courtney Burry, and Unidesk Senior Solution Architect Rob Zylowski. To register, go to: http://www.unidesk.com/landing/menlo-college-webinar
"With our new virtual desktop solution, we can rapidly deploy applications and Windows updates to personalized faculty and staff desktops and non-persistent lab and library desktops at a moment's notice," said Raechelle Clemmons, Menlo College Chief Information Officer. "From a pure hardware and software perspective, we found that costs are about the same relative to physical PCs, but we're already seeing that the amount of staff time and effort required to manage our VDI environment is much lower."
Previously, Menlo College had a complicated physical desktop infrastructure with over 350 desktops and 16 different types of gold images. Each gold image included a wide range of applications that required significant IT resources to update, troubleshoot and support. Now, with virtual desktops hosted on VMware vSphere, created and managed by Unidesk, and accessed through VMware View, Menlo College can create and update desktops on demand for all of its different use cases. Student labs are no longer bound by the sheer number of physical PCs or by lab space; virtual labs can now be expanded as needed and accessed at any time from students' own PCs in their dorms or from any thin client or PC on campus.
"Students will especially enjoy being able to access the lab applications they need from anywhere, rather than having to go to the library or lab," said Clemmons.
Faculty and staff desktops -- typically left out of many VDI implementations in higher education due to the high degree of personalization and customization these use cases require -- are also being virtualized by Menlo College. Unidesk VDI management software gives each faculty and staff member their own personalization "layer" that contains all of their profile settings, user-installed applications, and data. At desktop boot time, this user layer is dynamically merged with the latest read-only operating system and application layers that IT administrators have created with Unidesk. The result is a persistent desktop that keeps all user customizations, including user-installed applications, yet has all of the storage efficiencies and single image management benefits of non-persistent, stateless desktops.
"We're not a huge college, so undertaking VDI for just a few of our use cases wouldn't have made as much sense," added Clemmons. "If we were going to make the move to virtual desktops, we wanted to get the maximum return on our investment by virtualizing all of them. The combination of VMware and Unidesk lets us provide desktops that even our savviest power users will accept, with access options ranging from energy-efficient thin clients to student-owned PCs and Apple iPads."
Unidesk's ability to provision desktops using only local storage and still offer full desktop recoverability was a key factor in enabling the college to implement VDI at such a low cost. By sharing the same operating system and application layers across many virtual desktops, Unidesk also gives Menlo College administrators true "package-once, patch-one, deploy-once" management capabilities. Based on the results of the initial rollout, this approach is enabling the college to deploy patches to the operating system and updates to key applications such as the Jenzabar ERP system to all desktops in just a few hours.
"Unidesk's layering is really changing our lives, and helping us create a world-class desktop computing infrastructure for our students and staff that maximizes utility, while minimizing costs," Clemmons said. "The ROI for VDI only makes sense the more virtual desktops you deploy, and that means you need a solution that can satisfy the needs of all users, and make them, as well as IT, happy. That's what we've found with the combination of VMware and Unidesk."
"Menlo College is achieving one of the smartest deployments of VDI to date, as well as quite a number of exciting industry firsts," said Tom Rose, Unidesk Chief Marketing Officer. "They're proving that hosted virtual desktops can meet the needs of even the most advanced users, flexible storage options are now available to radically reduce VDI implementation costs, and management simplicity and operational cost savings are achievable, even when desktops are not locked down."
Education customers seeking to realize the same VDI benefits as Menlo College can take advantage of the Unidesk Promotional Program for VMware View in Education, which ends June 15, 2011. For details, go to: http://www.unidesk.com/landing/vmware-view-unidesk-education
About Unidesk
Unidesk® Corporation (http://www.unidesk.com) enables customers to centralize more desktops on data center servers and realize the full potential of Virtual Desktop Infrastructure (VDI). Unidesk's patent-pending desktop layering technology works with VDI access solutions such as VMware View™ and Citrix® XenDesktop® to sustain all desktop customizations for end users, while enabling IT to provision and patch all desktops from a single set of shared operating system and application images. By creating uniquely personal, storage-efficient, and easy-to-manage virtual desktops on VMware infrastructure that can satisfy almost any use case, Unidesk VDI management software reduces IT operations costs up to 80%, cuts data center storage costs up to 70%, and fosters a more productive, agile workforce. Unidesk Corp. is a privately-held company with headquarters in Marlborough, Mass, USA.
VMware, VMware View, and VMware vSphere are registered trademarks and/or trademarks of VMware, Inc. in the United States and/or other jurisdictions. Unidesk® is a registered trademark of Unidesk Corporation. All other trademarks and registered trademarks
###