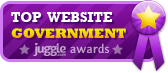 Being a government website, our focus is to provide easily accessible and usable information to our constituents.
(PRWEB) May 11, 2011
Awarded for its e-government and communication initiatives, DurangoGov.org has been recognized as a 2011 Top Local Government Website Award recipient by online encyclopedia and reference resource Juggle.com.
This year's recipients applied innovative web technology in order to provide citizens with an overview of local programs and businesses within the community. Dedicated to the successes of the local community, DurangoGov.org is one of several top notch Local Government portals offering outstanding online resources for local businesses and e-government services.
According to Janice Bourret, System Analyst and Web Administrator for the City of Durango, "Being a government website, our focus is to provide easily accessible and usable information to our constituents. Our meeting agendas and calendars have always been used heavily. Having the ability to provide city council meetings' video live and on-demand has given the public 24/7 access. Other popular page topics are discovering Durango, recreation, news releases, police, job openings, recycling and sales tax."
The awards editor at Juggle.com hand-selected this year's Top Local Government Award recipients by evaluating a variety of site features and functionality, including: usability, up-to-date content, access to e-government services, community resources and technological innovation. The features and functionality offered to users enabled them to surpass other websites in their class.
"Social networking has entered our strategy as well. We have two Twitter sites, one for general government and the other for our recreation programs. Also, our recreation staff is in the process of creating a Facebook presence. We are hoping these venues will provide us alternate means to keep in touch with our constituents and continue to provide an open and transparent government," noted Bourret.
Award recipients earn a headline page on Juggle.com that includes a conversation with one of the individuals responsible for curating each website. For the Durango feature, visit http://www.juggle.com/durango-colorado-top-city-government-website. Located in Belleville, Juggle produces websites with the sole objective of refining what the internet was built for: accessibility, quantity and quality of information to the public. Juggle's quest is simple, to design desirable websites, such as FlatBedScanner.net or TopDishwashers.com that engage users with accessible information, ideas and features. For additional facts on Juggle and extra subjects, visit http://www.juggle.com/about-juggle.
# # #