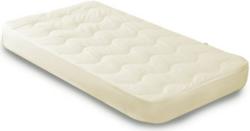 Buying organic and pesticide free bedding can save a child's life.
(PRWEB) May 10, 2011
A new mother's job is to protect her baby. An expectant mother keeps their baby warm and safe for 9 months, but how does a mother keep their baby safe from hidden dangers when setting up a nursery? The crib mattress is one of the most important purchases parents make, as babies sleep in their crib for the first two years. It's imperative that consumer are educated before choosing a crib mattress in order to protect their family from the many hidden dangers.
Pesticides not detected by the naked eye in non organic mattress are poisonous and lethal to children and adults. Consumers confusion on Organic practices and understanding labeling makes it difficult choosing the right crib mattress. According to Suzanne Diamond, cotton buyer for The Futon Shop one of the Nation's leading Organic mattress and crib mattress manufacturer, "as a manufacturer, I have the control of what goes into my mattresses and I choose organically." Suzanne's crib mattresses are exclusively made with only the best organic material, which protects families from harmful chemicals. The Futon Shop's cotton is grown without toxic chemicals and pesticides, making the world a healthier place. In order for cotton to be certified organic farmers rely on crop rotation that replenish and maintain soil fertility while botanical means are used to control pests and weeds. The USDA only certifies cotton as organic when a field is pesticide-free for three years prior to planting. According to the Organic Trade Association, Dr. Chensheng (Alex) Lu of the Department of Environmental Health at the Harvard School of Public Health has found that less pesticide exposure during pregnancy means less risks to your babies for a variety of diseases that can manifest years later.
There are Organic mattresses and crib mattresses online that appear to be labeled and designed safe for your child, but this does not mean they are. Many companies and websites have classified their product "Green " or "Organic", but when you look a little closer, you will find that companies are using deceptive green labeling that misleads customers. Every year there are hundreds of babies that get sick or die from dangers in toys and mattresses. According to Forbes, the U.S. Consumer Product Safety Commission (CPSC) recalled 44 toys in fiscal year 2010, ended Sept. 30, and several more in October and November.
The FDA and Consumer Product Safety Commission have issued general warnings regarding the use of phthalates and their dangers to our health, yet the PVC surfaces of baby mattresses still contain phthalates.Polyvinyl Chloride (PVC). Barry A. Chief Engineer, G.E.M. Testing & Engineering Labs complete a Toxicity Analysis of Baby Mattresses in which he found all plastics are not created equal. The "vinyl" surface typically used in baby mattresses is actually polyvinyl chloride (also known as PVC). Polyvinyl chloride (PVC) is made from vinyl chloride, which is a combination of petroleum (ethylene) and chlorine. This particular plastic is far more toxic than the plastic bag you might use to pack your lunch. The waterproof organic cotton crib mattress protectors offered by companies similar to The Futon Shop containing no harmful metals or VOC.
Groundbreaking research from Dr. Jim Sprott, OBE, a New Zealand scientist and chemist, states with certainty that crib death is caused by toxic gases, which can be generated from a baby's mattress. Chemical compounds containing phosphorus, arsenic and antimony have been added to mattresses as fire retardants and for other purposes since the early 1950's. A fungus that commonly grows in bedding can interact with these chemicals to create poisonous gases (Richardson 1994).
The Futon Shop home is San Francisco, California where hand make premium futon sofa beds, organic futons, organic crib mattresses, covers and organic bedding are made since 1976. The Futon Shop takes Organic living from the guest room into your baby's Nursery seriously with over 2 million mattresses sold, their Organic line of futons, every day mattresses, and crib mattresses are their most popular products. Often customers come in not really knowing what is Organic versus a traditional mattress. Basically the answer is no pesticides, no chemicals, and no off gassing from polyurethane.
###