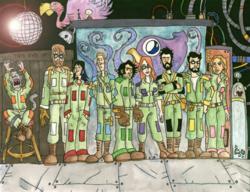 Enjoy Staten Island's premier, or rather, only jug band, at this free festival on the waterfront!
Staten Island, New York (PRWEB) May 10, 2011
The Council on the Arts & Humanities for Staten Island (COAHSI), is excited to present Excellence in the Arts Awardees "Wahoo Skiffle Crazies" as part of this year's Atlantic Salt Maritime Festival. The Wahoo's will perform from 8-9pm at Atlantic Salt, 561 Richmond Terrace. This event is free, and open to the public. Come early and hear the sounds of Harbortown starting at 6pm, then STOUT at 7pm, COAHSI Grantees Wahoo Skiffle Crazies at 8pm, and stay late to hear Captain Ahab and the Sea Crackens at 9pm.
The Wahoo Skiffle Crazies are Staten Island's premier jug band, or maybe, only jug band? Either way, they bring an amazing jug band sound that you won't want to miss. Their styles and influences range from ragtime, blues, old-time standards, protest songs, traditional jug-band tunes, and traditional American folk songs. Join us, and the Wahoo Skiffle Crazies, consisting of: Frank Williams - ukulele, vocals; Laura Bruij Williams - washboard, harmonica, vocals; Rob Yuzuk - guitar, kazoo, vocals; Carl Gallagher - banjo, dobro, vocals; Dan Gallagher - bucket bass, vocals; Chris Sorrentino - jug, whistles, effects, vocals; Brian McGowan - musical saw, vocals; and Rachel Somma Devlin - vocals, tambourine.
Enjoy the views of NY as you sit by the water and enjoy these sea-inspired performers. Those 21+ will enjoy free beer, sponsored by Six Point Brewery. It's a fun night to just sit outside, relax, and listen to some great music. Don't miss out on this event, it will be the only time these bands are together for one concert!
SummerFest is a series of free performances and workshops by Staten Island artists, presented by the Council on the Arts and Humanities for Staten Island (COAHSI). SummerFest grants are made possible through the NYC Department of Cultural Affairs. Summerfest is also sponsored by SIBOREALTORS, Pastosa Ravioli of Forest Avenue, Atlantic Salt, DeSantis, Kiefer, Shall & Sarcone LLP, CLR Printing Plus, Brooklyn Brewery, Northfield Foundation, and Mandolin Brothers.
For more information about SUMMERFEST, visit: statenislandarts.org/summerfest.html, or call 718-447-3329 x1003.
About COAHSI:
The mission of COAHSI is to cultivate a sustainable and diverse cultural community for the people of Staten Island by: 1) making the arts accessible to every member of the community; 2) supporting and building recognition for artistic achievement; 3) providing artists, arts educators, and organizations technical, financial, and social resources to encourage the creation of new work. COAHSI does extensive outreach to communities that are underserved geographically, ethnically, and economically. The organization works hard to impact the arts across all borders.
# # #