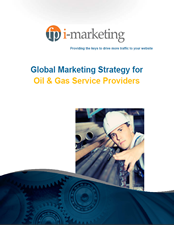 The internet provides a portal for businesses of all sizes to reach this new segment of customers.
Calgary, Alberta (PRWEB) May 10, 2011
FP i-Marketing, formally known as FoundPages, has published a white paper exploring how small and medium sized businesses in the oil and gas service sector can realize cost and efficiency benefits by harnessing online marketing for their lead generation and branding.
Global Marketing Strategy for Oil and Gas Service Providers provides an approach for companies frustrated by the inefficiency of trade shows and the long sales cycles of big ticket items. The paper presents ideas that can help small and medium sized businesses succeed globally in a highly competitive oil and gas sector.
"Global village is no longer just another oxymoron catchphrase", explains FP i-Marketing President Fred Yee. "The internet provides a portal for businesses of all sizes to reach this new segment of customers. We want to share what we have learned about reaching this new segment and this white paper is a great source of information."
Sales of products and services in the oil & gas services sector has traditionally been an arena of sales representatives constantly phoning and meeting potential prospects resulting in a low conversion rate. Online marketing allows businesses to take advantage of tools designed to streamline lead generation and nurture prospects around the world.
With behavioral identification technology, prospects near the purchasing stage are automatically identified for representatives to focus on while prospects in earlier stages are automatically nurtured by the ActiveConversion software. This saves tremendous amounts of valuable sales time and greatly increases sales.
An online marketing strategy can significantly reduce the overhead costs associated with marketing products and services to a global petroleum market. Further, the guide examines how marketing automation tools, such as ActiveConversion, can vastly improve sales efficiency by automatically nurturing leads until they are sales-ready.
FP i-Marketing provides products and services designed to increase your marketing ROI by directing traffic to your website and encouraging visitors to come back. After online marketing raises website traffic, ActiveConversion tool converts those visitors into the lead generation and revenue that customers expect. FP i-Marketing is certified by industry partners such as Google, SEO Consultants, Salesforce.com, and the Better Business Bureau. With effective tools and a proven methodology, FP i-Marketing has successfully serviced over 150 North American businesses.
For more information on FoundPages, visit http://www.foundpages.com or call 1-877-872-2ROI.
###