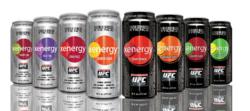 Las Vegas, NV (PRWEB) May 11, 2011
XYIENCE, maker of Xenergy, the official energy drink of the UFC, is teaming up with its retailers to launch a series of text message-based summer sweepstakes, including one with QuikTrip (QT) Convenience Stores and a second with hundreds of independent convenience stores throughout the United States.
Starting June 1 through August 31, 2011, XYIENCE and QT stores offer shoppers in Arizona, Georgia, Kansas, Oklahoma and Texas the chance to win a selection of prizes. The lucky grand prizewinner will take home a pair of 400cc ATV four wheelers and a trailer. A second place winner will receive a new Vespa scooter and three additional winners will receive a UFC / Las Vegas prize package for two, which includes roundtrip airfare, hotel accommodations and tickets to a future UFC event in Las Vegas.
In addition to the QT sweepstakes, also starting June 1 through August 31, XYIENCE and participating independently owned convenience stores that carry Xenergy give shoppers a chance to win a UFC / Las Vegas weekend for two. The grand prize includes roundtrip airfare to Las Vegas, hotel accommodations and a pair of tickets to an upcoming UFC event. Ten second-place winners will receive an Xbox video game console and a UFC video game, and 30 third-place winners will receive a pre-paid gift card to purchase a UFC pay-per-view event.
No purchase is necessary to enter either promotion and winners will be selected at random. Winners must be legal residents of the United States and at least 18 years old with valid proof of age.
XYIENCE will launch a third text message promotion at three retail locations on the Marine Corps Air Station (MCAS) Miramar base in San Diego starting May 1 and running through June 15. The grand prizewinner will receive a pair of tickets to UFC 132 on July 2 in Las Vegas, as well as hotel accommodations. The winner will be announced immediately following the close of the contest.
"Summer is a busy time for energy drinks and we wanted to seize this opportunity to help our retailers drive Xenergy sales," explains Reuben Rios, XYIENCE's vice president of U.S. sales. "The recent launch of Xenergy Xtreme Fruit Punch has generated significant momentum for our brand and we want to keep that going throughout the summer season."
About XYIENCE (pronounced zy-ince)
Headquartered in Las Vegas, XYIENCE products support an active and healthy lifestyle and are held to the most stringent standards of excellence. Visit http://www.xyience.com for details.
Xenergy (pronounced zen-ergy)
Xenergy is the official energy drink of the Ultimate Fighting Championship (UFC) and is one of the fastest growing brands in its category. The first energy drink created by a nutrition company, Xenergy is a sugar- and calorie-free drink that's fortified with vitamins. All-natural flavors provide a consistent supply of energy, without the "crash" inherent in most other energy drink brands. Xenergy Premium flavors include Cherry Lime, Cran Razz, Mango Guava and Blu Pom. Xenergy Xtreme flavors include Fruit Punch, Orange Fuel, Citrus Slam, and Cherry Rush. Xenergy is available throughout the United States and Canada.
For more information, please contact:
Stephanie Forte
Forte Creative Media PR for XYIENCE
702.596.9866
sforte(at)fortecreativemedia(dot)com
Click here to visit XYIENCE's online newsroom.
###