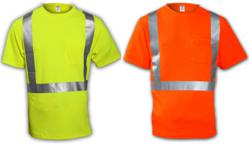 "Tingley Rubber ANSI-107 high-visibility apparel offers improved comfort and style that helps encourage better compliance. More comfort means more compliance," says product manager Brian Nutt.
South Plainfield, NJ (PRWEB) May 11, 2011
Whether you are a truck driver climbing out of your cab, a construction worker on a roadside project, a grounds maintenance worker, or a sanitation worker making pickups, you are in danger from traffic.
According to the Occupational Safety and Health Administration (OSHA) approximately 10% of all occupational deaths are from "struck-by accidents, and that number increases to 26% in the construction industry.
That is why as of December 31, 2011, the Federal Highway Administration (FHWA) has expanded the requirements for the use of high visibility safety apparel to include all workers on or alongside federal and non-federal roads.
The rules are only going to make a difference if workers and employers comply with them. The problem is that during the warmer summer months it is too often the case that workers don't comply with wearing high visibility apparel.
A frequent complaint is that the high visibility apparel is not comfortable or simply "I forgot." That not only endangers workers' lives, but it creates other problems for employers, too. In addition to OSHA fines, and penalties for failure to comply – employers may experience increased insurance rates, litigation, and a loss of man hours.
With the weather getting warmer and the layers of clothing coming off, how can employers ensure that high visibility apparel stays on? A frequent answer is the safety vest. Safety vests are an important type of protection, but they do have some limits. If a vest is dirty or not closed properly, it loses its effectiveness to ensure 360 degree conspicuity.
As an alternative, high visibility t-shirts are often more comfortable. They don't have to be fastened, fit close to the body, and offer more freedom of movement. A t-shirt stays on - it is not an add-on put over other clothing. They are washed more often than vests - keeping them clean maintains their high visibility.
"Eliminating the vest reduces the number of layers the worker must wear during the hot summer months. This increases the worker's comfort and eliminates the chance the worker will forget to wear the vest or remove it to help cool off," says Brian Nutt, Product Manager for Tingley Rubber Corp. and its Job Sight™ High Visibility Apparel product line as well as member of the International Safety Equipment Association (ISEA) High Visibility Products Group. "High performance, moisture management materials have been adapted from the sportswear market for use in high visibility work wear, allowing the worker to stay cooler and more comfortable" adds Nutt.
Tingley Rubber offers a "Quick Tips Guide to Getting and Staying ANSI Compliant' along with several other high-visibility resources on its website at http://www.TingleyRubber.com. Tingley Rubber Corporation, a leader in the manufacture of protective footwear and clothing for over 100 years offers a complete line of ANSI compliant high visibility safety apparel including vests, pants, t-shirts, sweatshirts, and outerwear.
###