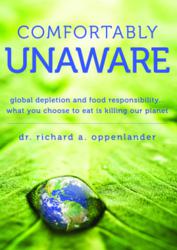 "Comfortably Unaware explains, so clearly, how what we choose to eat has a direct impact on the health of Planet Earth." - Jane Goodall, PhD, DBE, UN Messenger of Peace
Ann Arbor, MI (PRWEB) May 12, 2011
With obesity rates on the rise, more healthful eating has practically become a national mandate. But never mind just waistlines, it seems diet choices have permanent global consequences.
Dr. Richard Oppenlander's "Comfortably Unaware" tackles the crucial issue of global depletion as it relates to food choice. Find the forthright information and stark mental images provided by Oppenlander somewhat disturbing? He won't be offering any apologies. "We have to understand and have it clearly imprinted that the choices you make for food to eat today – every meal, every day – had to come from somewhere other than your grocery store," Oppenlander emphasizes."What resources had to be used? What sacrifices had to be made? What is the true cost of food and what is depleted in its production process?"
Clearly, the doctor is out to shake up this complacent attitude and help consumers understand the measures needed to ensure the health and well-being of the planet—and all its inhabitants.
The fresh insight on this suppressed and often controversial topic goes well beyond the now-familiar warnings about global warming. "Comfortably Unaware" provides entirely new perspectives on culture and how this global crisis has reached such startling proportions. Even more important—Oppenlander shows how to solve the problem and opens readers' eyes to the global effects of diet and food choice. What is his ultimate hope? "To make you just uncomfortable enough to encourage you to take action," said Oppenlander.
Dr. Oppenlander will be a keynote speaker at World VegFest in San Francisco as well as at Vegans in Vegas.
About the Author: Dr. Richard A. Oppenlander has devoted his life to improving the health of the planet. His medical research during the 1970s gave way to clinical experiences over the years, treating thousands of patients, many with nutritional and dietary issues. Since 1976, Dr. Oppenlander has extensively studied the effect food choices have on health and on the environment. He gives lectures, presentations, and open discussions on this topic and is president and founder of a sustainable organic food production business. Dr. Oppenlander has been featured in newspapers, magazines and on radio.
"Comfortably Unaware explains, so clearly, how what we choose to eat has a direct impact on the health of Planet Earth: how modern agro-business and our thoughtless appetites are, quite literally, destroying the environment and the future of our children. I urge you to read it, to think about its message, discuss it with your friends – and start to change the world, one bite, one meal, one diet at a time." -- Jane Goodall, PhD, DBE, UN Messenger of Peace
###