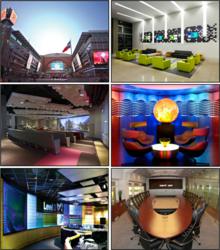 Dallas, TX (PRWEB) May 10, 2011
As global demands have increased for more powerful communications tools, Whitlock has expanded its technology showcase and seminar series to share insight and best practices for audiovisual and digital media solutions.
The company's Convergence show hits Dallas on May 25th and will feature unified collaboration tools, including HD Videoconferencing/Telepresence, Interactive Whiteboards, Streaming Technologies, Digital Displays, LCD/DLP Projectors and Control Systems.
Participating manufacturers include AMX, Biamp, Christie, Cisco, Crestron, Extron, Lifesize, NEC, Planar, Polycom, Sanyo, Sharp, SMART, Sony and others.
Convergence caters to executives in IT and facilities management for corporations, education and government or military entities. The primary goal is to enable an interactive forum for assessing and discussing the latest AV and digital media technologies, and how to make best use of these essential business tools across the enterprise.
These shows are held nationwide and feature free seminars, demonstrations and valuable advice from multiple technology leaders all in one location. Door prizes include iPads, iPod's, digital cameras and a Sony 40" LCD.
Featured Learning Sessions at Dallas Convergence include 1) Open Collaboration Network for Unified Communications, Presented by Polycom, 2) The New Collaboration Experience, Presented by Cisco, 3) DigitalMedia 8G, Presented by Crestron and 4) SMART Business Solutions— The Natural Way To Collaborate, Presented by SMART.
Future Convergence shows are listed below with other dates and locations pending.
Denver, CO: August 10, 2011, The Inverness Hotel
Durham, NC: September 1, 2011, Sheraton Imperial Hotel
See Whitlock's website for more details.
Whitlock is a global leader in AV integration, videoconferencing solutions and managed services. We help clients maximize, standardize and protect the value of their audiovisual technology investments enterprise-wide. We're Whitlock. We help you share it with the world, in exactly the way you want, precisely when you want it to happen.
# # #