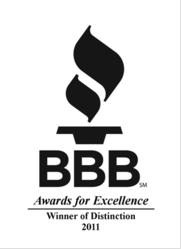 We really appreciate the recognition for all of the hard work we put into servicing our clients.
Houston, TX (PRWEB) May 10, 2011
Trim Electric, Inc. received the "Winner of Distinction" award at the Better Business Bureau Awards for Excellence luncheon held Wednesday, May 4 at the InterContinental Houston near the Galleria.
The BBB Awards for Excellence recognizes businesses and non-profits for their achievements and commitment to overall excellence and quality in the workplace. Proceeds from the event help fund the BBB Education Foundation which educates consumers about scams and fraudulent business practices in the Greater Houston area.
Trim Electric was awarded the "Awards for Excellence - Winner of Distinction 2011" award in the Electrical category.
While Trim Electric is known primarily for it's outstanding residential electrical repair service; over the past three years it has also grown its commercial electrical department by adding several experienced electricians, an experienced commercial division manager - Stu Jardine, and just recently a new commercial electrical estimator - Donald McMayon. All the additions of superior electricians and staff have lead to an influx of important projects, most recently a Conroe TX Target remodel and two additional Target stores with even more projects in the works.
When asked what it means for Trim Electric to receive this recognition, Joe Palumbo, the president, stated "We really appreciate the recognition for all of the hard work we put into servicing our clients. Our clients give us tremendous feedback but it's also nice to be recognized by an organization as important as the Better Business Bureau."
###