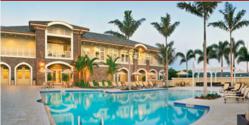 They're building here toward the future. The Clubhouse they already had was fine, but the new Clubhouse is going to be phenomenal. We're very excited about it. Everybody here is very excited about it.
Delray Beach, FL (PRWEB) May 19, 2011
With a $21 million improvement project well underway, Delaire Country Club, in Delray Beach, Fla., is experiencing a renaissance that is reinforcing its status as the most desirable country club in Palm Beach County.
A fresh new architectural style and amenities—designed to appeal to a new generation of country club buyer—are giving Delaire a reputation as the place to be in the Boca/Delray area.
"We compared Delaire to virtually a half-dozen clubs or gated communities in the Boca Raton area," says Stan Davis, an industrial auctioneer from Pittsburgh, Pa., who recently purchased a three-bedroom home at Delaire with his wife Marian. "They're building here toward the future. The Clubhouse they already had was fine, but the new Clubhouse is going to be phenomenal. We're very excited about it. Everybody here is very excited about it."
Davis, who purchased his home for vacations and perhaps as a permanent residence in the future, looked at houses in Boca West, Broken Sound, Addison Reserve and Boca Pointe. Yet he decided to invest in Delaire.
"We've done a pretty good analysis of the clubs in the area," says Davis, who is also an attorney. "Delaire's golf course is terrific, with no tee times. It's a friendly community. The Fitness Center is fantastic. And the new Clubhouse is going to be absolutely dynamite. No doubt in my mind."
The community has already opened its new Fitness and Tennis Center, which boasts a 16,000-square-foot Fitness Center with the latest in equipment and technology; a new Tennis Center with eight Har-Tru courts, an observation deck, a stadium court and Pro Shop; a spectacular resort-style pool; and a children's playground.
The Fitness Center, five times as large as the facility is replaces, offers aerobics and fitness classes, such as the wildly popular Zumba, which combines aerobics with dance and Latin rhythms. Certified Fitness Trainers are available as well to those who prefer to customize their workouts.
A new 43,000-square-foot Clubhouse is under construction and slated to open this fall. It will become a focal point and gathering place for Delaire's members and guests and will feature a bold new Mid-Atlantic Traditional style, a central rotunda, lavish main dining room, cocktail lounge, members grill, golf pro shop, card rooms and an outdoor dining area overlooking the lush golf course.
The new clubhouse will have extensive stonework, a slate-style roof, copper accents and "green" design elements throughout—a stark contrast from the usual Spanish style, stucco buildings so commonly found in South Florida.
"Clubhouses are really an extension of everyone's home," says Jess M. Sowards, a partner with Delray Beach-based Currie Sowards Aguila Architects, which designed the new facilities. "We designed the Clubhouse to have a warm and comfortable feeling, but with a distinct identity so that new and prospective members say, 'Wow, this is different than any other clubs. This is the place I want to be.'"
Savvy homebuyers are already capitalizing on the real estate market by snapping up deals on single-family homes at Delaire. The community's tree-lined streets are teeming with construction activity as new homeowners renovate—or build new custom homes.
"Word has gotten out about what we're doing," says Trent Squire, the Club's general manager. "That's why prospective homebuyers should be checking out available homes at Delaire right now. Real estate sales in Palm Beach County are already on the upswing—the time to buy is now."
About Delaire Country Club
Delaire Country Club is a private community of 326 single-family homes located on Military Trail along the Boca Raton-Delray Beach line. Delaire offers a first-class, casually elegant country club experience, featuring a 27-hole Joe Lee championship golf course with walk-on golf (no tee times), a full-service tennis facility with eight Har-Tru courts and world-class dining. The community recently opened a new state-of-the-art Fitness and Tennis Center, with the latest in equipment and technology as well as Certified Fitness Trainers. Delaire is also in the process of building a new main Clubhouse with the utmost in amenities, from a lavish dining room to a lounge, card rooms and meeting facilities. To learn more about the unique lifestyle offered at Delaire Country Club, contact Liz Shaw, executive coordinator, at 561-499-9090 or visit http://www.Delaire.org.
###