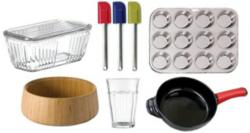 Evanston, IL (PRWEB) May 10, 2011
Parents spend considerable time choosing and preparing healthy food for their families, but frequently, they are unaware that the products they use to cook, bake, eat and store food may actually put their families' health at risk. Materials such as Teflon, BPA, lead, aluminum, phthalates, and melamine are commonly found in everyday kitchenware products, yet have been tied to disturbing health issues. MightyNest, a curator and retailer of quality products that are healthy and safe, is taking the guess-work out of what is safe to use in the kitchen with the introduction of the new MightyNest Kitchenware collection. This new offering includes a handpicked selection of dishware, cookware and bakeware, food storage and kitchen essentials made from safe materials that do not leach toxins into food or liquids.
"We are passionate about finding and sharing safe alternatives to everyday products for families and are proud to add Kitchenware as our newest category," said Chris Conn, co-founder of MightyNest. "It's our mission to keep families safe, save them time and ease their minds when it comes to finding safe product alternatives, and our new Kitchenware line fits perfectly with that mission."
MightyNest's new Kitchenware collection was selected through the same rigorous screening and approval process used for all products available at the MightyNest store. The company's team of experts reviewed all products to ensure they are made from healthy and safe materials, thoroughly screened each manufacturer to ensure they are reputable, tested products in their own kitchens to ensure items functioned exceptionally well and selected only the best products in each category. MightyNest's Kitchenware products are made from glass, stainless steel, bamboo and ceramic, the safest materials available for use with food and liquids. Through a meticulous research, review and approval process, MightyNest gives families peace-of-mind by offering safe products for the home, all in one convenient place.
More and more reports continue to surface linking people's health problems to chemicals in their home environment. The Environmental Protection Agency (EPA) lists more than 80,000 man-made chemicals in the United States, and according to the Breast Cancer Fund, another 1,000 or more are added each year. Unfortunately, several man-made chemicals and heavy metals, added to everyday products for durability and to lower costs, have serious downsides including links to cancer and learning disabilities. For example, the endocrine disrupting chemical BPA is known to leach from plastic and has been linked to cancers, impaired immune function, early onset of puberty, obesity, diabetes and hyperactivity, according to EnvironmentCalifornia.org. According to the findings of a 2006 Environmental Protection Agency scientific advisory panel, the primary chemical used to make Teflon, perfluorooctanoic acid (PFOA), is a "likely human carcinogen". Even a natural occurring element like Aluminum, commonly used in kitchenware, has been tied to brain and nervous system disorders by the Agency for Toxic Substances & Disease Registry. To read more about the risks associated with these concerns and ways to keep your family safe, read MightyNest's "12 Ways to Avoid Toxins in the Kitchen" article in its Learn section.
MightyNest was founded to keep families safe from these chemicals by making it easy to find everyday products made from safe, non-toxic materials, and with the launch of its Kitchenware collection, MightyNest is able to further embark on its mission. To view its new Kitchenware collection, please visit http://mightynest.com/shop/kitchenware.
About MightyNest
Founded by two parents, MightyNest is an online store and resource center dedicated to making it quick and easy for parents to find and learn about safe, non-toxic products that create a healthier home for their families. Sparked by the birth of their first child, Kristen and Chris Conn founded MightyNest after spending countless hours and sleepless nights researching products that would be safe for their family. Realizing the information was very difficult to find, it became their mission to share these findings and alleviate the time commitment and frustration for fellow parents.
# # #