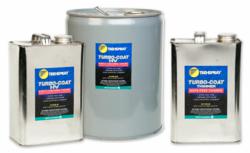 New Turbo-Coat HV has lightening fast curing and razor sharp edge definition!
Amarillo, TX (PRWEB) May 11, 2011
Techspray's introduces new Turbo-Coat™ HV Acrylic Conformal Coating (part #2109), with lightening fast curing and razor sharp edge definition. Turbo-Coat HV is tested and approved for use in Asymtek and PVA selective spray systems. Ideal for durable electronic assemblies: automotive, aviation, consumer electronics, appliances and industrial meters and controls.
Mix Turbo-Coat HV with new Turbo-Coat Thinner (part #2110) to dial down viscosity to fit exact equipment requirements without the risk of changing coating characteristics.
Techspray's Turbo-Coat™ line of Acrylic Conformal Coatings is designed to speed up board production throughput without additional investment of expensive UV systems or other capital equipment. Conformal coating cure time is considered a major production bottleneck for PCB assembly operations. Turbo-Coat HV dries tack-free in 9 minutes, allowing manufactures to handle boards in a fraction of the time of the leading acrylic coating.
Turbo-Coat HV acrylic conformal coating does not contain chemicals listed under HAPs (Hazardous Air Pollutants), which is defined by the U.S. EPA, nor SVHC (Substances of Very High Concern), defined by the European REACH directive. Many conformal coatings contain hazardous solvents like MEK (Methyl Ethyl Ketone), Toluene, and Xylene. Turbo-Coat HV is free from those hazardous and restricted chemicals, making handling, ventilation and regulatory compliance easier to manage.
Turbo-Coat HV acrylic conformal coating fully complies with IPC-CC-830 and MIL-I-46048C standards. These represent industry agreed upon standards for flammability, fungal resistance, flexibility, dielectric withstand voltage, moisture resistance, thermal shock, and other key specifications. Turbo-Coat HV has also achieved a V-0 rated tested under the UL94 flammability standard, the testing standard set by UL. V-0 is the lowest flammability rating possible under UL94.
For more information, go to http://www.techspray.com, call Techspray at 800-858-4043 or e-mail tsales(at)techspray(dot)com.
###