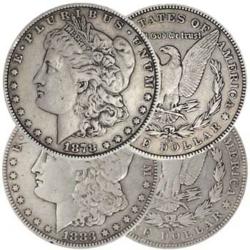 Montpelier, Vermont (PRWEB) May 10, 2011
The year was 1975. A gallon of gas cost 44 cents. Gerald R. Ford was president. And International Coins & Currency was born.
In celebration of ICCOIN's 36th anniversary this month, ICCOIN has compiled 50 great offers for a May Sale-abration that includes many silver issues, some never offered before. Prices on all have been slashed with unbelievable savings up to 50%! Nearly half of the 50 offers are under $50, and prices start at $10. There has never been a better time to order from ICCOIN. View all 50 great offers online.
Imagine collecting 101 different coins of the world for $19.50. Or a U.S. Peace Silver Dollar 1924-P Very Fine for just $45, marked down from $79. Something rarer? Purchase a 1952 U.S. Proof Set 5 Coins. Only 81,980 sets were issued. Many of them were broken up for the coveted Franklin half dollar. It's regularly priced at $625. During our May Sale-abration, it's priced at $475.
Don't delay. ICCOIN's May Sale-abration is a limited time offer -- with prices effective until May 31, 2011. View all 50 great offers online.
For collectors seeking advice on how grow their collections, visit the ICCOIN Resource Center.
To learn more about ICCOIN's 36-year history and their iron-clad guarantees, visit the About Us section of the website.
About ICCOIN
International Coins & Currency Inc. was founded in 1975 and over the years has proudly satisfied hundreds of thousands of collectors worldwide. With one of the largest mail-order and website coin selections anywhere, ICCOIN provides a world of coin collecting options, including international coins, classic and modern U.S. coins, and seldom-seen scarcities and fascinating oddities. Collectors can visit http://www.iccoin.com to buy foreign and U.S. coins online from ICCOIN's huge selection of competitively priced items. Committed to providing "the best service in the business," ICCOIN offers a 100% satisfaction guarantee on every item it sells, including coins, currency, supplies or other collectibles.
###