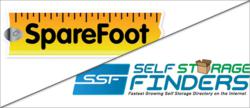 ...we're excited to be a part of what is now the largest online marketplace for self-storage.
Austin, TX (PRWEB) May 10, 2011
SpareFoot, the online self-storage marketplace and industry solution provider, announced it now boasts the largest advertising network in the industry—larger than all of its competitors' combined (Compete.com, March 2011). This benchmark follows SpareFoot's recent agreement to power SelfStorageFinders.com.
The partnership with SelfStorageFinders.com was finalized earlier this month, effecting a major change in the way the site serves both facilities and consumers. It previously utilized a subscription model, whereby self-storage facilities paid monthly for listings without any guarantee of performance. On the SpareFoot Network, there are no monthly fees, and listed facilities only pay when a new tenant moves in—guaranteeing ROI.
SelfStorageFinders.com will benefit from an improved user experience to drive more transactions, and a much larger database of storage facilities. The overhead spent on managing facility advertising subscriptions will also be eliminated, simplifying their business overall.
"As key players in this milestone for SpareFoot, we're excited to be a part of what is now the largest online marketplace for self-storage," said Matt Price, owner of SelfStorageFinders.com. "Through this partnership, we will generate even more exposure for our listed storage facilities. Meanwhile, it's easier than ever for our consumer visitors to find and compare all of the best storage options in one convenient place online."
SelfStorageFinders.com joins SpareFoot's rapidly growing list of partners, which already includes leading sites like SelfStorage.com, Apartments.com and uShip.com. Sites in the SpareFoot Network enjoy more web traffic than all other independent storage directory and listing sites combined. The three-year-old company, led by CEO Chuck Gordon, is committed to developing a diverse suite of products that offer the most straightforward, effective online marketing solutions for self-storage operators.
"This milestone is incredibly exciting, and we're eager to take our ideas and products even further in the self-storage industry," Gordon said. "As self-storage consumers increasingly turn to the web to research their options, our goal is to help make their search for storage as simple as possible. And in doing so, we can help storage facilities improve their online visibility and generate more tenants through smart online marketing."
About SpareFoot:
SpareFoot is the leading online marketplace for self-storage. With more than 5,000 self-storage facilities listed nationwide, SpareFoot offers consumers the most complete comparison shopping experience in the storage industry. Across multiple properties including SpareFoot.com, SelfStorage.com, Apartments.com and many others, SpareFoot helps storage facility operators find new tenants—all through an entirely pay-for-performance model. SpareFoot is backed by Silverton Partners, FLOODGATE and Capital Factory. For more information, please visit http://www.sparefoot.com.
About Self Storage Finders:
SelfStorageFinders.com is committed to aiding customers in finding self-storage quickly and easily. The site provides location and contact information for facilities nationwide. Prospective tenants can search through listings on the site to find the best storage solution for their needs. The company offers unique opportunities to storage owners in addition to prospective renters. SelfStorageFinders.com generates exposure for its facility clients by offering premier visibility on major search engines. For more information, please visit http://www.selfstoragefinders.com.
# # #