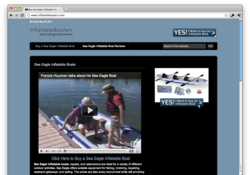 Sea Eagle inflatable boats are the most well-built on the market today.
Seattle, WA (PRWEB) May 10, 2011
Inflatable Boaters (http://www.inflatableboaters.com/) announces the official launch of their brand new website, which features reviews, videos, and articles on all of the latest offerings by Sea Eagle boats. Buying an inflatable boat is a big decision, and InflatableBoaters.com aims to assist would-be purchasers with up to the minute information, opinions, and advice on today's top inflatable boats and kayaks.
Sea Eagle inflatable boats are quickly becoming the favorite of boaters and sailing enthusiasts alike, and for good reason. "Sea Eagle inflatable boats are the most well-built on the market today," said Daniel Matterson, owner of the website. "It's simply amazing that they're so affordable considering the type of high quality construction that is used."
Sea Eagle has been in business for over 40 years, with a number of models that offer affordable options to traditional types of craft. Models are available for kayaking and sailing, as well as pontoon boats, yacht tenders, and those with motors. Inflatable boats can be ready to put in the water in approximately five to ten minutes, depending on the model.
The company's boats are NMMA, ISO and CE certified. Regulations vary widely among locations, and checking with local authorities is advised. Sea Eagle boats are lightweight and easy to assemble, making them easy to transport, and depending on the model, they're appropriate for fishing, sailing, motoring and white water kayaking. They provide an affordable solution for weekend getaways where heavier vessels might prove unwieldy.
The company's FoldCat™ pontoon boats are available in two models, each with its own capacity limits. The boats can be assembled in five minutes and the 3 h.p. motor propels the craft at 8 knots. The boats can be used on small or large lakes, along with inland bays, and it's light design allows for easy transportation to remote locations where a larger, heavier boat would be difficult to maneuver.
Sailing is a favorite pastime for many, and the Sea Eagle SailCat is the first inflatable boat suitable for both the novice and experienced sailor. The Lateen rigging is easy to operate, and it features a fold-up design that can be assembled quickly. It also compacts small enough to fit in the trunk of a car.
Sea Eagle inflatable kayaks for vigorous whitewater rafting are strong and durable with I-beam construction, suitable for a variety of whitewater rafting trips. The sides are more rigid, with a streamlined design, and they're designed with two skegs for smooth tracking across the water. A model is also available for those who prefer a more sedate experience in quiet waters.
For those who want a vessel for social outings, Sea Eagle manufactures a line of boats that can be equipped with small gas or electric motors. They're lightweight for easy rowing and offer a stable platform for fishing. The Sport Runabouts feature a fiberglass-reinforced transom that can cut through the water easily.
Sea Eagle also makes a yacht tender to ferry passengers from ship to shore that can hold up to four people. They're reinforced for stability and strength. For those in need of an all-around boat, the company's Sea Eagle PaddleSki is an excellent inflatable utility boat that users can take fishing, sailing or rowing. It can be paddled or a motor can be affixed to the vessel.
The newest offering is the LongBoard, an affordable solution for those who want to spend time on the water and want to work in some exercise at the same time. It can be paddled from a sitting or standing position.
InflatableBoaters.com provides a wealth of practical information on Sea Eagle boats that visitors can use when making a purchasing decision. Inflatable boats are becoming popular alternatives to traditional boats due to their affordability and lightweight design, and the information provided on InflatableBoaters.com offers consumers all the information they need to make an informed purchasing decision.
To learn more about Sea Eagle boats, visit http://www.inflatableboaters.com/ today.
# # #