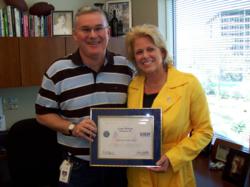 It's really humbling to work beside men and women who are willing to sacrifice their time, their safety and, in some cases, their lives to serve our country.
Atlanta (PRWEB) May 11, 2011
Georgia Employer Support of the Guard and Reserve (ESGR), an agency of the Department of Defense, announced last month that Lynn Morgan, vice president of marketing and consulting for Manheim, was honored with a Patriot Award in recognition of Manheim's support of its employees who serve in the National Guard and Reserve.
"I am fortunate to work for a company that allows me to let individuals like David [Reeder] take time to serve our country," said Morgan. "I'm very proud to receive this honor on behalf of our company, and I'm exceptionally proud of David. It's really humbling to work beside men and women who are willing to sacrifice their time, their safety and, in some cases, their lives to serve our country."
Reeder, manager of security at Manheim Drive, nominated Morgan for the award. A lieutenant colonel who has served 18 years in the Florida National Guard and Reserve and has been activated four times, Reeder joined Manheim in January 2004. At the time, Morgan was director of Manheim Drive. During his employment at Manheim, Reeder has deployed twice -- once to help train the Ukrainian army and a second time, for all of 2010, to serve in Kuwait as an intelligence officer for the 53rd Infantry Brigade.
According to James McGarrah, ESGR Georgia Chair, "The Patriot Award was created by ESGR to publicly recognize individuals who provide outstanding patriotic support and cooperation to their employees, who, like the citizen warriors before them, have answered their nation's call to serve. Lynn was nominated for being highly supportive of the National Guard by her reserve component employee. Supportive supervisors are critical to maintaining the strength and readiness of the nation's National Guard and Reserve units."
"You would think your boss and your company would get upset, but Lynn and Manheim have been so supportive the past seven years," said Reeder. "While I was gone, Lynn got colleagues at Manheim and Cox Enterprises to send care packages, and she reached out to my wife. She also threw a big 'Welcome Back' party for me when I returned in January. Lynn is a true patriot."
All Cox Enterprises subsidiaries support military efforts in various ways. Last year, Cox companies collectively shipped more than 200 care packages to approximately 1,500 troops in units located in Kandahar, Bagram and Kabul, Afghanistan.
About Manheim
Manheim is an online vehicle remarketing leader, connecting buyers and sellers to the world's largest, most comprehensive wholesale marketplace through its extensive in-lane and online offerings. Manheim.com receives nearly 900,000 visits each week. Headquartered in Atlanta, Manheim is a subsidiary of Cox Enterprises, a leading communications, media and automotive services company. Additionally, Manheim offers services including reconditioning, certification, inspections, dealer financing, title management and marshaling, among others. In 2010, Manheim handled nearly 10 million used vehicles, facilitating transactions worth more than $50 billion in value.
About ESGR
As the 1.3 million members of the National Guard and Reserve continue to perform an increasing number of unique missions with America's borders and beyond, ESGR will continue to be the resource for the employers of citizen warriors. ESGR advocates relevant initiatives, recognizes outstanding support, increases awareness of applicable laws, and resolves conflict between employers and service members.
###