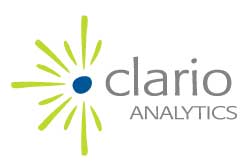 Marketers need a better solution for making more intelligent decisions.
Eden Prairie, MN (PRWEB) May 10, 2011
Clario Analytics, a leading expert in cloud-based marketing analytics solutions for multi-channel retailers, announced today that co-founder and CEO Bill Flach has retired, passing the CEO position onto chief technology officer Matt Redlon. Mr. Flach will continue to serve as the company's executive chairman of the board and Matt Redlon will continue his role as chief technology officer in addition to his new role as CEO.
Bill Flach stated, "The management change comes on the heels of the company having successfully transformed itself from a services company to a software company. With the convergence of traditional direct mail, digital and social media, marketers are in dire need of marketing analytics to drive smarter marketing decisions. Under Matt's leadership, the company's cloud-based marketing analytics is well poised for explosive growth. Matt brings a unique skill set in advancing the company's initiatives and a tremendous passion for creating and delivering solutions that our customers can leverage in this market."
Bill Flach, Randy Erdahl, Deb Campbell and Matt Redlon, all of whom previously worked at Fingerhut, co-founded Clario Analytics in 2002. The inspiration for Clario came from their collective deep understanding of how marketing analytics can reduce costs while delivering more effective marketing campaigns that result in better customer interactions and higher yields. During Flach's tenure, the company built a successful marketing analytics consulting practice which served as the catalyst in the development of its own line of Clario marketing analytics solutions.
Andre M Boisvert, a Clario board member and an industry veteran who has previously served in leadership positions at Oracle, Cognos and SAS Institute Inc. said, "On behalf of the board of directors, we want to thank Bill Flach for his contributions during the formative years of the company. Given that Bill will remain as the company's executive chairman, we look forward to continuing to benefit from his industry knowledge. Clario is in an excellent position to capitalize on the analytics market momentum and we are confident that Matt will execute brilliantly to make this happen."
"Marketers need a better solution for making more intelligent decisions," said Matt Redlon, Clario's new chief executive officer. "It's critical that these solutions scale and adapt as rapidly as the complex marketing environment they address. Today's multi-channel marketing organizations with their burgeoning information repositories are at a competitive disadvantage without a powerful analytic foundation like Clario. Clario Analytics is uniquely positioned to capitalize on this need by removing barriers to analytics adoption with a cloud-based platform and world-class marketing expertise."
Matt Redlon has served as the company's chief technology officer since 2006. Matt is the product visionary and leads the team that created the Clario solutions suite. In previous roles at United Health Group and Fingerhut he held leadership positions in information technology, product development and management and corporate strategy. Matt has a MBA in Entrepreneurial Management and MIS from the University of Minnesota-Carlson School of Management and a B.S. in Economics.
About Clario Analytics
Clario Analytics develops and markets analytic marketing solutions via a cloud-powered, Software-as-a-Service deployment model. Clario brings unique insight into customer behavior through sophisticated analytics and world-class expertise. The Clario Analytical Platform transforms raw customer data into actionable, customer-level intelligence, allowing marketers to create more personalized programs and profitable results. Clario Stream is a powerful contact optimization engine that helps increase both marketing efficiency and effectiveness, while improving customer interactions. For more information visit our website at http://www.clarioanalytics.com or call 952-653-0980 or 866-849-3341.
Clario is a registered trademark of Clario Analytics. All other trademarked names are the property of their respective owners.
###