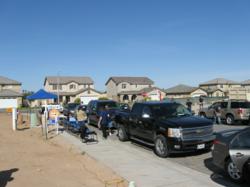 "True Life Communities has been an invaluable partner in our efforts to reach out to teens and help them achieve success in life." -- Katharine Gardner, Director of Development for the SUCCESS Foundation
Blythe, CA (PRWEB) May 10, 2011
From community car washes that benefit a local substance abuse facility to fund-raising programs for student scholarships, True Life Communities is expanding a series of community outreach efforts that it began in Blythe, CA. True Life Communities envisions the community involvement program first established in Blythe as the model for future programs in cities where they have a presence building new home neighborhoods.
In Blythe, True Life Communities is doing more than developing The Chanslor Place, a collection of one- and two-story family homes. The company's positive contributions to the community are making a huge difference in people's lives.
The Chanslor Place hosts two to three car washes annually on behalf of Metcalf Ranch, a residential recovery home for men who are dealing with alcohol or drug abuse problems. Metcalf donates the car-washing manpower, the car wash patrons donate non-perishable foods for the local food pantry or monetary donations to the Blythe Rotary Scholarship Fund, or the Success for Teens Foundation. In exchange, patrons receive a full-service car wash. At the end of the event, True Life Communities makes a donation to Metcalf Ranch.
True Life Communities also led an effort to raise $75,000 to support a local high school swimming program that was facing budget cutbacks, and the company has been a leading sponsor of the SUCCESS Foundation. This non-profit organization publishes, "Success for Teens," a book that provides young people with advice on how to live a positive and productive lifestyle. The SUCCESS Foundation has already distributed more than 900,000 copies of the book nationwide, and True Life Communities, working with the Blythe Chamber, has distributed 3,000 copies of the book and successfully integrated them into the local school system.
"True Life Communities has been an invaluable partner in our efforts to reach out to teens and help them achieve success in life," stated Katharine Gardner, Director of Development for the SUCCESS Foundation.
Donald Kirby, True Life Communities' Vice President of Sales and Community Relations, commented, "What we are doing in Blythe is grass-roots involvement at its best. We are proud to contribute to the community by providing solutions that address their most pressing needs. Through our efforts, we feel that we are creating a win-win situation both for the residents of Blythe and for True Life Communities."
Additional info on True Life Communities is available by calling 925-824-4300 or visiting http://www.TrueLifeCommunities.com.
###