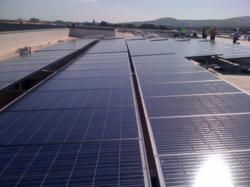 The combination of Conergy PowerPlus modules, along with 21st Century's unique proposal, will make us virtually energy independent"
- Ray Hosoda, President and CEO, FUJIFILM North America Corporation
Honolulu, Hawaii (PRWEB) May 11, 2011
• Fujifilm enhances corporate sustainability commitment, while realizing cost savings with PV Solar Energy panels.

21st Century Technologies installs the first PowerPlus plant in the U.S.
1,455 Conergy PowerPlus modules from Conergy's vertically-integrated manufacturing plant
Solar champion Hawaii: 70% of energy needs to be met by clean energy by 2030.
FUJIFILM North America Corporation selected Conergy's premium solar panel, PowerPlus, to install on its Hawaii branch office. The installation was completed by local clean-energy integrator, 21st Century Technologies this spring. With 1,455 PowerPlus modules, the solar installation will produce 483,391 kWh annually, which is equivalent to reducing CO2 emissions by 1.11 million lbs per year or powering 66 households per year. It will be the first Conergy PowerPlus plant installed in North America, and will be one of the top ten largest systems in Oahu, Hawaii.
In an effort to bring down costs while keeping its corporate commitment to sustainability, Fujifilm chose to install Conergy's premium module, PowerPlus, on its Hawaiian branch office. With this installation, Fujifilm will realize a substantial cost savings on its current energy usage. In addition, the company will be able to take advantage of the utilities net energy metering program, which will provide ongoing benefits. Globally, Fujifilm has a Greenhouse gas target set at 30% reduction in CO2 emissions by Fiscal Year 2020, as compared to 2005.
"This project began in response to a corporate mission of energy conservation and Greenhouse gas reduction, but it also will help us realize significantly reduced energy costs. The combination of Conergy PowerPlus modules, along with 21st Century's unique proposal, will make us virtually energy independent," said Ray Hosoda, President and CEO, FUJIFILM North America Corporation. "With the urgency and concern about saving the environment and resources, this project is especially important to Fujifilm as we do our part in helping to preserve the lush, beautiful surroundings in which we work and live."
The FUJIFILM installation is the first project under Conergy and 21st Century Technologies new strategic partnership. "Hawaii is a world leader in alternative energy solutions, especially solar," stated Myron Thompson, CEO of 21st Century Technologies. "We chose the Conergy PowerPlus module because of its unique engineering and durability profile. We needed something really tough to stand up to Hawaii's powerful winds and salt air. The Conergy PowerPlus panel fit the bill exactly. It has one of the best warranties on the market, and that was critical. We're really excited about our new partnership with Conergy and the opportunities ahead."
Carl Campagna, Conergy's Regional Account Manager in Hawaii and Oahu resident, stated, "Since Hawaii is leading the country in solar energy with the goal of reaching 70% of its energy needs through clean energy sources by 2030, Conergy is excited about our mutually-beneficial relationship with 21st Century Technologies. We are looking forward to experiencing future growth on the island. I believe that this installation of our premium module, Conergy PowerPlus, at Fujifilm's branch on Oahu will be a cornerstone for many more quality projects throughout the islands. We are proud that an innovative company, like Fujifilm, chose PowerPlus as its module."
With over 1.7 million PowerPlus modules installed around the world, Conergy recently launched the premium module in North America. With high lifetime yield and durability, the PowerPlus can withstand 9-16 feet of heavy snow load or 205 mile per hour winds and a direct hit by a 2 inch hail ball traveling at 80 mph. The PowerPlus module is manufactured in the company's fully-automated, vertically-integrated manufacturing plant in Frankfurt (Oder), Germany. Since the module is manufactured from start to finish under one roof, the components are developed to optimize the end product versus optimizing individual parts – which can compromise the reliability and lifetime yield of the module.
About Conergy
Only Conergy delivers solar energy systems from a single source. As a system manufacturer, Conergy produces all components for a solar installation and offers all services under one roof. With its modules, inverters and mounting systems, the solar expert creates Conergy System Technology, which is efficient and synchronized solar energy systems for private or commercial rooftops, as well as for multi-Megawatt Parks.
Conergy System Services deliver a "Worry-Free Package" for Conergy solar installations. Conergy's experts not only install on-site turn-key solar projects, but they also manage the planning and financing, project implementation, system monitoring, operation and on-going maintenance of the project for maximum performance. With this comprehensive technology and service package, Conergy offers yield insurance for its installations.
Conergy System Sales brings Conergy premium products to nearly 40 countries. The solar expert supports homeowners, installers, wholesalers and investors in their efforts to "go solar" through deep-rooted local operations in 18 countries. With sales activities on five continents, Conergy has close relationships with all its customers. Listed on the Frankfurt stock exchange, Conergy employs more than 1,700 people worldwide. Since Conergy's founding in 1998, it has produced and sold more than 1.5 GW of clean solar power.
Through its acquisition of well-established local companies, Conergy began operating as a distributor and project developer in North America in 2005 and currently has five offices, four warehouses and three production sites in the region. Conergy manufactures mounting systems in Sacramento, CA. In Ontario, Canada Conergy produces modules and mounting systems that meet local content requirements for the Provincial FIT. In addition, Conergy operates a Project Group that develops and operates large-scale systems. Through these activities, Conergy maintains expert knowledge about local market conditions and requirements.
About Fujifilm
FUJIFILM North America Corporation, a marketing subsidiary of FUJIFILM Holdings America Corporation, consists of five operating divisions and one subsidiary company. The Imaging Division sells consumer and commercial photographic products and services including film, one-time-use cameras, online photo services and fulfillment, digital printing equipment and service. The Electronic Imaging Division markets consumer digital cameras. The Motion Picture Division provides motion picture film, and the Graphic Systems Division supplies products and services to the printing industry. The Optical Devices Division provides binoculars, and optical lenses for closed circuit television, videography, cinematography, broadcast and industrial markets. FUJIFILM Canada Inc. markets a range of Fujifilm products and services. For more information, please visit http://www.fujifilm.com/northamerica, or go to http://www.twitter.com/fujifilmus to follow Fujifilm on Twitter. To receive news and information direct from Fujifilm via RSS, subscribe at http://www.fujifilmusa.com/rss.
FUJIFILM Holdings Corporation, Tokyo, Japan, brings continuous innovation and leading-edge products to a broad spectrum of industries, including electronic imaging, digital printing equipment, medical systems, life sciences, graphic arts, flat panel display materials, and office products, based on a vast portfolio of digital, optical, fine chemical and thin film coating technologies. The company was among the top 16 companies around the world granted U.S. patents in 2010, and in the year ended March 31, 2011, had global revenues of $25.8 billion*. Fujifilm is committed to environmental stewardship and good corporate citizenship. For more information, please visit http://www.fujifilmholdings.com.
About 21st Century Technologies
Save energy, save money, save the 'aina (land)! Those simple ideas were the impetus for Hawaiian native Myron Thompson to launch 21st Century Technologies in 2004. The goal: become Hawaii's leading renewable energy provider. Today, 21st Century Technologies is one of Hawaii's leading installers of solar electric systems. As a licensed electrical contractor in the State of Hawaii, we have helped hundreds of homeowners and local businesses achieve their renewable energy goals. For more information, please visit http://www.greensolutionshawaii.com
###