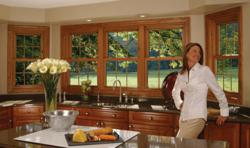 Our windows and all the options that go along with them are like purchasing a new piece of furniture or decorations for the home. It's not just about the price.
- Rick Jones,
Stanek Windows
Cleveland, OH (PRWEB) May 19, 2011
People today are staying in place, investing in energy-efficient products, and looking to add a touch of beauty to their homes. Spring is the perfect time to take a look around the home and select those improvement projects that can give a fresh and more updated appearance and often add to the home's resale value.
When looking to replace windows, consumers will be amazed at the number of customized options that are now available. New windows are an investment in a home that can increase the value of the home, cut energy bills, reduce maintenance costs, and also increase comfort while incorporating the homeowner's own sense of style with options they never dreamed of before.
When do you know it is the right time to replace your windows?

As you begin opening your windows to let the fresh air inside after a long winter and you notice they are difficult to open or close.
A "For Sale" sign will be going up in your yard and you are looking to give your home more value and "curb appeal" to sell your house faster.
You notice that your windows are faded and making your house look older than it really is.
Your power bills continue to escalate.
Your home felt drafty this past winter and as the sun begins to shine more, heat is penetrating your windows to make your home feel a little too warm.
If your windows have ice or a frosty glaze inside a windowpane.
If your windows become fogged with condensation.
When you decide to replace your windows, consider the variety of choices you now have to complement the interior and exterior style of your home. With women often times being the home's decorator and decision-maker, Stanek Windows wants to be sure that both the man and the woman of the house are involved in the selection process. "Our windows, doors, trim and all the options that go along with them are like purchasing a new piece of furniture, wooden floor, or decorations for the home. It's not just about the price," said Richard Jones, President and CEO of Stanek Windows
Consider the following when making a decision about your replacement windows:
1. Mix and match materials to create a custom look.
Matching your windows and patio doors to complement furnishings and interior wood trims is the latest trend in home improvement. Stanek Windows offers its UltraExtreme Wood Series Windows that have the distinctive, refined look of natural woodgrain without the labor required to maintain wood. Color choices of this premium grade vinyl window include light oak, medium oak, walnut, and cherry interior polymer finishes that will never need treating, staining, or painting and will give the room a sense of warmth and visual appeal. The vinyl used in Stanek's windows is durable to all kinds of weather, easy to clean, and require practically no maintenance.
There are also new hardware options for consumers to choose from for their windows. Stanek has added bright brass, antique brass, and satin nickel. "We felt that consumers should have more choices in hardware to blend with the room. Stainless steel appliances are popular in kitchens so our satin nickel makes a nice complement. Many consumers are choosing antique brass with a woodgrain finish in the home office or den," said Jones.
2. Choose from endless color choices.
From eclectic to traditional, you can now choose from a variety of colors and finish choices. Inside windows can be your basic white or beige or consumers can now enjoy the look of real wood like light oak, medium oak, cherry and walnut. On the exterior of the windows, you can choose any color under the sun to enhance the curb appeal of your home—white, beige, brown, cocoa, clay, hunter green, redwood or any other customized color. The colors and finishes are fade resistant, cleans up easily with soap and water, and has a strong adherence to the surface to help resist scratches and scrapes.
3. Find the right type of glass for you.
Glass performance in your new windows is key to achieving lower energy costs. According to the Federal Government's Department of Housing and Urban Development (HUD) studies, up to 70% of energy loss occurs in windows and doors with 90% of window heat loss occurring through the glass.
Stanek Windows offer four high-performance glass options to solar tune your home for maximum comfort and savings. Of even more interest to consumers is the numerous "styles" of glass now available. You can give your home a custom look with beautiful colonial or diamond grids. Beauty and elegance can be added with custom grooved glass designs like petal, Florentine, marquis, tudor, trellis, diamond, or prairie. Consumers can also select from privacy glass options—rain, pebble, or frosted leaf—that allows light to filter in, while keeping a high level of privacy. Combining a different shape of window like a circle, eyebrow, octagon, oval, or arch with your rectangular windows can also create a dramatic affect.
4. Finish the look with wood trim molding.
To complete the look of your new windows, you can choose from options that include pine, poplar or oak for your interior wood trim molding.
5. Finally, consider room function and location.
Something to consider is matching your glass and insulation values to fit the unique needs of each one of your rooms. Heat Mirror technology, used in Stanek's windows, is a low-emissivity coated polyester film that is suspended inside an insulating glass unit. It reflects heat back to its source. Is your room in direct sunlight? There are windows that contain Heat Mirror that reflect the sun's heat, providing a cooler window to sit next to during even the hottest times of the day. What about the rooms where natural sunlight is desired? Heat Mirror film effectively blocks 99.5% of harmful UV radiation from the sun, which greatly reduces fading of furnishings, carpets, drapes, and artwork, while allowing the sun's light into the room. Finally, rooms with windows facing high outdoor traffic areas need sound barriers from outside noises. There is a window that has a Heat Mirror unit with two divided chambers and krypton gas to reduce outside noises.
Didn't think you can ever find a window to match your one-of-a-kind style of your home? Thanks to the new innovations in windows and doors, you can. New windows can completely change the look and feel of every room in your house. Consider your unique needs of each room in your house and then custom select window types based on both style and function.
About Stanek Windows
Stanek Windows serves Western Florida, Northeast Ohio and South-Eastern Wisconsin with offices in Tampa/Clearwater, Florida, Cleveland, Ohio and Milwaukee, Wisconsin. The company offers a full line of energy-efficient windows, patio doors and exterior doors, as well as, siding, hurricane shutters and gutter systems. All Stanek Windows are independently tested and certified to area building codes, including impact windows for the strongest Florida hurricane-rated codes. For more information, contact Stanek Windows at 800-4-STANEK or visit http://www.StanekWindows.com.
###